Worcester D-Day veteran's funeral attended by dozens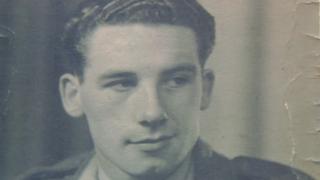 More than 50 people have attended the funeral of a D-Day veteran who died without any close family to mourn him.
Denis Price took part in the Normandy landings in June 1944, when he was 19 years old.
Mr Price, who was born in Handsworth, Birmingham, died in a hospice in Worcester in September, aged 89.
Harold Massam, from a local regimental association, said it was "imperative" people who served their country were respected.
He and other members of the Worcestershire and Sherwood Foresters Regimental Association attended the funeral at Worcester Crematorium, following an appeal from Mr Price's friends.
Representatives from RAF Brize Norton and the Army attended, and the Royal British Legion provided a guard of honour.
An RAF Hercules flew low over the crematorium before the service.
Also paying his respects, despite not knowing Mr Price, was Parachute Regiment veteran Robert Brunton.
'Biggest family'
He said Mr Price was part of the "biggest family in the world".
Dormston Cook, a friend of Mr Price's, said he was privileged Mr Price shared his memories with him.
"He was a man who was private, until you got to know him, and he was giving both with his knowledge and his memories," he said.
Mr Cook said the former soldier had told him how he witnessed friends die in the first wave of landings on Gold Beach.
"He told me it was a horrific and traumatic day for him," he said.
"Some of the things he witnessed, he said that no young man should ever witness."
Mr Price joined the Royal Warwickshire Regiment as an infantryman, training to become a sniper.
The regiment suffered heavy casualties during the D-Day landings.
After the war Mr Price worked for car manufacturer Rover at its Longbridge plant.
His wife, Joy, died in 2009.