Playhatch Road in Sonning deadline for flood fix scrapped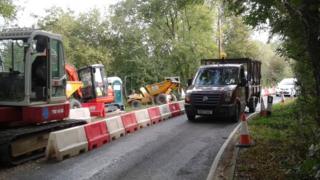 The deadline for raising sections of a busy commuter road as a long-term solution to flooding has been scrapped.
Sonning's B478 Playhatch Road, a main route between Oxfordshire and Berkshire, was damaged when river levels rose earlier this year.
Oxfordshire County Council had said the aim was to sign off the work by spring 2015, but now says it is "not putting a timeline on this".
A short-term fix to reopen the road in November is being carried out.
One lane of the road that carries an estimated 16,000 cars on weekdays has remained closed since January.
It is one of three main routes over the River Thames in the area.
The absence of a deadline for a long-term fix after ten months has frustrated motorists.
Liam Keating from Emmer Green said his commute to through Sonning is four times longer than it was.
He said of the council: "How incompetent can they be?"
Jill Kelsall, deputy head teacher of Sonning C of E Primary School, said: "It's really hard trying to run a school when you don't know when the children are going to turn up."
David Nimmo Smith, council cabinet member for transport, told the BBC in August he aimed to have plans to raise sections of the road "signed off by the beginning of next year or the spring".
Now a council spokesman said: "We're not putting a timeline on this.
"These are complex issues that take time to assess. We have received feedback and advice from the Environment Agency and we are acting upon that."
Mr Nimmo Smith was not available for comment.