East of England Ambulance boss Anthony Marsh 'confident' over deficit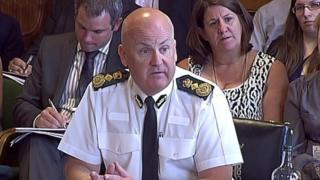 An ambulance service boss has said he is "confident" the trust's books will be balanced this year, despite heading for a £16.2m overspend.
The East of England service has been criticised for years for poor response times and fined thousands of pounds.
Chief executive Dr Anthony Marsh, whose salary has also been slated, said budget improvements had been made.
He said the service would continue to seek a permanent finance director, despite not being successful so far.
The NHS trust has come under intense pressure in recent years, with ambulance delays leading to deaths, management being criticised for poor performance and staffing pressures leading to high sickness rates.
In addition, Dr Marsh, who also runs the West Midlands Ambulance Service, has been criticised for his £232,000-a-year salary and hotel and transport expenses amounting to £30,000 in 16 months.
In its latest financial statement the trust said it had forecast a £16.2m overspend this year but its position remained "healthy" and it was making "good progress" to address the deficit.
But since then the NHS Ipswich and East Suffolk Clinical Commissioning Group has fined the trust £750,000 for failing to meet its response time targets in August and September, in addition to the £1.2m it was fined for April to July.
Under national guidelines it has to reach 75% of Red 1 and Red 2 calls, described as patients with potentially life-threatening conditions, with an emergency response within eight minutes.
The trust currently has no permanent finance director despite the financial pressures.
Dr Marsh said: "We are ensuring that we are spending all of the money that we have to improve our service.
"There were some initial pressures on the budget in the first half of the year. We've made very substantial improvements in reducing that pressure in-year, and we are confident that we will reach a balanced position by the end of the year."