£18 car boot Chinese vase worth thousands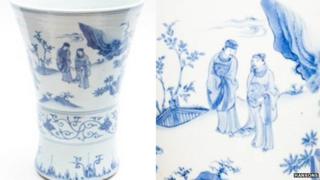 A 400-year-old vase bought for £18 at a car boot sale in Leicestershire is worth up to £5,000, experts have said.
The Chinese blue and white porcelain piece was taken by its new owners to Hansons Auctioneers, in Derbyshire, to find out more about its origins.
Charles Hanson, from the firm, said the vase dates back to the 1600s and "is in superb condition for its age".
He said: "It was made for the European market at a time porcelain manufacture was not possible in the UK."
Mr Hanson said: "It was valued as highly as gold."
He added that the vase, which depicts a rocky garden landscape, was produced during a "fascinating and stormy" period towards the end of the Ming Dynasty, or in the Qing period that followed.
The Ming Dynasty, from 1368-1644, was a time marked by social, cultural and economic transformation and a dramatic flourishing of the arts.
In April, a tiny Ming porcelain "chicken cup" sold for a record-breaking £21.5m in Hong Kong.
Although not as valuable, the car boot vase is still expected to attract worldwide interest when it goes on sale in December, Hansons has said.
---
Ming porcelain
Blue and white was one among many decorative treatments given to Ming porcelain
The picture above features a vase with a copper red underglaze, a colour effect so difficult to achieve it was considered suitable for use among the elite
The Ming imperial court commanded the very finest materials and workmanship, which meant the items were far superior to anything that could be produced in Europe at the time
King William III was a collector of Chinese porcelain, which he kept at Hampton Court
Many of the objects were specifically designed for buyers in Europe - with decoration being determined by foreign tastes
Source: BBC/Hansons
---