Police chief Nick Gargan will not face data protection charges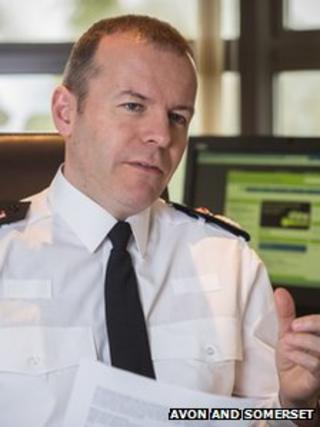 Insufficient evidence has been found to bring criminal charges against a police chief over alleged data protection breaches, the police watchdog has said.
Avon and Somerset Chief Constable Nick Gargan was investigated for sending emails about police business to people unconnected to the force.
The Independent Police Complaints Commission (IPCC) said it would not be referring the matter to prosecutors.
A misconduct hearing could still take place.
'Hope to return'
A spokesman for the Chief Police Officers Staff Association said: "Chief Constable Nick Gargan is pleased with today's announcement and is glad that the investigation has now been completed.
"He will continue to cooperate to the fullest possible extent with the process in the hope that he can return to his important role, serving the people of Avon and Somerset, as soon as possible."
Police and Crime Commissioner Sue Mountstevens has 15 days to decide whether there should be internal disciplinary proceedings.
IPCC deputy chair Rachel Cerfontyne said she had provided Ms Mountstevens with a report detailing the commission's findings "as to whether or not Mr Gargan has a case to answer for either misconduct or gross misconduct and should face disciplinary proceedings".
She said: "Our investigation uncovered evidence that the chief constable may have breached the Data Protection Act by sending emails concerning police business, which contained personal data, to individuals unconnected to the force.
"Having thoroughly considered that evidence, I decided that it was insufficient for a referral to the Crown Prosecution Service.
"Under police complaints procedure, it is now a matter for the PCC to respond to me with a decision on what action she proposes to take as a result of our findings."
'Inappropriate advances'
A statement from Ms Mountstevens' office said: "The report will now be considered carefully and a decision taken on whether or not to refer the matter to misconduct proceedings.
"The police and crime commissioner has 15 working days - until Monday November 3rd - to make a decision.
"Chief Constable Nick Gargan currently remains suspended and John Long will continue as acting chief constable."
Mr Gargan was suspended in May after allegations he made "inappropriate advances" to female members of staff.
In June, he was told he would not face a criminal inquiry in relation to those allegations.
A month later it was announced he would also be investigated over the alleged data protection offences, which he denies.
Mr Gargan has led the Avon and Somerset force since March last year and has been a police officer since 1988.