Police commissioners to be decommissioned say Labour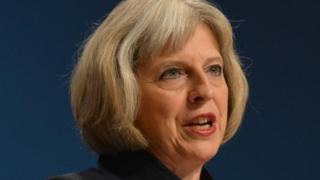 "If it's broke, don't fix it!"
Labour says it would turn the well-worn catchphrase on its head because the role of police and crime commissioner (PCC), one of the flagship policies of Home Secretary Theresa May, is broken beyond repair.
A policy commission, set up by the party, has already recommended PCCs be scrapped.
But there has been speculation shadow home secretary Yvette Cooper and her shadow police minister Jack Dromey favour a salvage operation.
They have reportedly been looking at ways of reforming them rather than getting rid of them altogether: of introducing extra checks and balances, perhaps, which might make them more accountable.
There was also the concern that with the second round of PCC elections due in 2016, an incoming Labour government may not have enough time to put its alternative arrangements in place when the existing incumbents' terms of office come to and end just a year later.
The centre-right research organisation Policy Exchange, who devised the original PCC concept and were among the cheerleaders urging Mrs May to introduce them in the first place, said many Labour commissioners who had initially had their misgivings about the job had changed their minds once in office and now wanted to run for re-election.
Cynics wondered if the six-figure salaries enjoyed by PCCs in larger force areas like West Midlands may also have had something to do with it. Unlike some of his counterparts, the late Bob Jones, the Labour PCC elected in the West Midlands first time round, had remained convinced that his job should be abolished right up until his untimely death in July. His successor, the former Labour minister David Jamieson, came in saying much the same thing.
Surprise move
But it did come as something of a surprise to most observers at Labour's annual conference last month when Ms Cooper came straight out with it.
A Labour government would indeed decommission the commissioners.
She said the move would save £50m which could be ploughed back into front-line policing. She also pointed out the elections for what ministers had trumpeted as a new generation of high-profile American-style police bosses had achieved an average turnout of only 15% in the elections in November 2012.
In the West Midlands by-election following Bob Jones's death, the turnout out was down to just 10.4%. In a contest which had cost the taxpayer £3.7m, Labour calculated this meant each vote had cost £20.
Equally, if you had conspired to demonstrate just low turnouts could go you could have done no better than to stage this contest in the dog days of August when so many people had their minds not on the beat but on the beach. But in an interview with the Birmingham Post, Theresa May said at least people had voted for Bob Jones's successor, unlike the old police authorities which they had replaced.
They had been made up predominantly of councillors drawn from the constituent local authorities in each force area. They had not been directly-elected, and in Mrs May's opinion the authorities had proved to be "invisible and ineffective" especially during the 2011 summer riots when she compared them unfavourably with the up-front style of London's Conservative mayor Boris Johnson.
At the time, she and her ministers were confident the PCCs would gain wider acceptance once the public had seen them in action delivering what she said was their one and only objective: cutting crime.
They were armed with new powers to set police priorities, to oversee their budgets and, in certain circumstances, to hire and fire their chief constables.
In Gloucestershire this had been thrust to the very top of the agenda of the incoming commissioner Martin Surl, a former superintendent turned-independent PCC. Even before the contest had begun, the county's then chief constable, Tony Melville, had resigned in protest against the whole idea.
In the event, whatever successes these commissioners may have enjoyed have been overshadowed by well-documented embarrassments and failures ranging from the South Yorkshire Labour Police Commissioner Shaun Wright's initial refusal to resign over the Rotherham child sex exploitation scandal, to the Channel Four documentary in which Kent's commissioner Ann Barnes was unable to list her duties and admitted she had "no idea" what kinds of crimes constituted "lower priority" offences.
Whatever next?
All of which leaves the immediate future of policing, like so much else in politics, in a state of flux.
If the next election produces a Conservative majority or minority government, or another Con-LibDem coalition, we can expect the second round of PCC elections to go ahead as planned in 2016.
A majority Labour government or a Lab/LibDem coalition, would promise "a new political settlement" for policing here. Labour say the commissioners would be replaced by:
Policing Board comprising the council leaders in the force area
Panel: Criminal justice, victims of crime and "other voices"
A possible executive arm which could be modelled on hospital trusts.
With the terms of office of the current PCCs due to expire in May 2016, Labour propose a possible extension into a transitional period of "months rather than years" to allow time for the legislation to be introduced.
Critics say the Policing Boards hark back to the old police authorities which persuasive police chiefs were able to wrap around their little fingers.
But what happens if the next election produces an entirely new alignment in government?
Achieving and maintaining sufficient consensus to sustain an administration though the statutory five-year Parliament across the full range of policy areas may be challenging enough in itself, without contemplating yet another wrangle over PCCs.
So what do the commissioners themselves make of all this?
In this weekend's Sunday Politics Midlands, back in its usual 11.00 slot on Sunday 19 October 2014, we will be hearing from three of our commissioners with their own very distinctive answers to these questions:
Matthew Ellis, the Conservative Commissioner in Staffordshire, David Jamieson, his Labour counterpart in the West Midlands, and Martin Surl the police superintendent-turned Independent commissioner in Gloucestershire.