English murder mysteries that have baffled detectives
By David Lumb
BBC News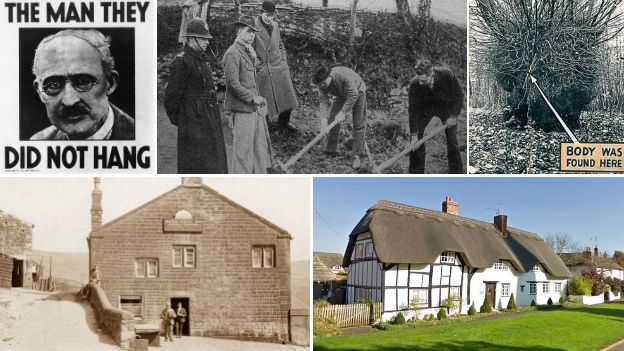 From the skeleton of a woman in a hollowed-out tree to an unidentified torso in the River Severn.
Despite the passage of time, historical unsolved murders continue to inspire books and fuel speculation. Here the BBC looks at some of the stranger stories that have become ingrained in local folklore.
William Wallace, an insurance salesman, was convicted of murdering his wife Julia at their Liverpool home in 1931.
However, he claimed he had been tricked into leaving his house by a man asking to meet him to discuss insurance.
The caller - an R.M Qualtrough - had left a message to meet him at 25 Menlove Gardens East the following evening.
Mr Wallace said he spent two hours looking for the road, including taking three trams, only to discover that it did not exist.
When he returned home he found his wife had been bludgeoned to death.
He was found guilty of his wife's murder and sentenced to death, but the conviction was overturned on appeal because there was no motive, weapon or witnesses.
Detectives - who knew the call had been made from a phone box near the couple's home - considered two of Wallace's co-workers as suspects but both had an alibi. Author Richard Waterhouse has suggested it was a contract killing.
But historian Mark Russell said: "When you look at the whole picture, I am convinced the police got the right man.
"The alibis for everyone else stood up.
"If there was such a person as Qualtrough, he was relying on a lot of luck."
Blood was smeared on the floor, walls and stairs of a remote Lancashire pub where a landlord and his son were murdered in 1882.
Thomas Bradbury's battered body was found downstairs in the Moor Cock Inn, near the village of Greenfield, Saddleworth.
The 46-year-old's father William, or Bill, was upstairs in bed.
The 84-year-old, who was known as Bill o'Jacks in line with the local custom of referring to people as the offspring of their father, had also been badly beaten but managed to mumble a barely audible word before he lost consciousness.
Detectives looked into the possibility he said "Platts", a common local name.
The words "Patts" and "Platters", referring to Irish natives and gypsies respectively, were also considered.
One suspect was a poacher who Thomas was due to testify against at court.
But Paula Badger, a historian who has studied the case, believes the murders were over a gambling debt.
She thinks William was the target and Thomas was injured in the process.
"I think the younger one discovered the intruder," she said.
She said the inn was affluent in its day - especially because it used to collect toll money for the nearby Holmfirth Road.
"If you have an affluent inn, there will be disputes," she said.
"Don't forget, in those days pubs were won and lost on a game of cards."
Could a German spy ring have been to blame for the death of a woman found inside a hollowed-out Wych Elm tree in Worcestershire during World War Two?
The unidentified victim was discovered by a group of boys in Hagley in 1943.
Cloth had been stuffed in her mouth and her severed hand was buried nearby.
Graffiti appeared asking "Who put Luebella in the Wych elm?" and the victim subsequently became known as Bella.
Police considered the possibility Bella had been working as a prostitute or was a gypsy. They noted wych elms were thought to offer protection against witches.
One woman told officers her Dutch lodger had bragged about putting "his Dutch piece in a tree".
Then in 1953, a letter to the Express & Star newspaper claimed Bella was murdered by a German spy-ring.
But author Piu Marie Eatwell, who is researching the case, dismissed the theory, highlighting the women's different descriptions and that Clara lived after 1943.
She said her own research had found a lot of police files associated with the case were missing.
"It's not clear if this woman was connected to espionage, or someone important was mixed up in the case and did not want to be associated with it," she said.
"My personal view is that, probably, someone important was involved.
"The fact stuff has been taken out of the files shows something was going on."
Bella's skeletal remains have disappeared from Birmingham University. West Mercia Police said the reason for the disposal "was not known".
Charles Walton was found pinned to the floor by his own pitch fork just a few hours after he left his Warwickshire cottage to trim hedges on Valentine's Day in 1945.
A trouncing hook was in the 74-year-old's throat and a large cross was carved in his chest, sparking suggestions of witchcraft.
Mr Walton had lived in the village of Lower Quinton all his life and was well-known.
Warwickshire Police said they had a loose suspect but the case was eventually closed due to a lack of evidence.
Councillor Mike Brain, a former police officer who lives near the village, said: "It was convenient to blame witchcraft but the locals knew who had committed the murder.
"Some will say it's all to do with a domestic situation. A domestic that went wrong.
"People in the village knew what happened but decided they would not talk about it. The investigating officer came up against a brick wall."
A torso discovered by fishermen in Gloucestershire in 1938 is believed to belong to a Cheltenham man who had threatened to expose an illegal abortion service.
The torso became tangled in the net of three fishermen working in the River Severn.
Over the coming days, limbs were recovered.
Officers from Scotland Yard launched an investigation but there was no head or hands so the victim could not be identified.
Historian Brian Brooks said many people believed the body belonged to Cheltenham resident Capt William Butt, the suspected lover of dancer Brian Sullivan.
Mr Sullivan was suspected of putting pregnant girls in touch with his mother who was carrying out illegal abortions, said Mr Brooks.
Mr Sullivan took his own life two weeks after Capt Butt went missing.
Capt Butt's car keys and bloodstained coat were later found under flagstones at the Sullivans' house.
"It attracted a lot of interest at the time because it was so grisly," said Mr Brooks.
"There was a headless body involved and bits being dragged from the river. It was a pretty gruesome business all round."
Related Internet Links
The BBC is not responsible for the content of external sites.