Downton Abbey creator Julian Fellowes awarded doctorate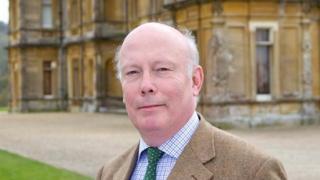 Downton Abbey creator Julian Fellowes has been awarded an honorary doctorate by the University of Winchester.
Lord Fellowes received the doctorate in recognition of his international reputation in creative writing and the performing arts.
Downton Abbey has won numerous awards since 2010, including a Golden Globe.
University vice-chancellor Joy Carter called the Dorset-based writer a "champion of the arts".
"There are few who will not have been exposed to his acting and screenwriting talents, as well as his bestselling novels, making him an inspiration to authors and artists at every level," she said.
In 2002 Lord Fellowes won an Oscar for his debut screenplay, Gosford Park, and his other scripts include Young Victoria, Vanity Fair, Separate Lies and the Broadway musical, Mary Poppins.