'Illegal gang masters' on trial over migrant exploitation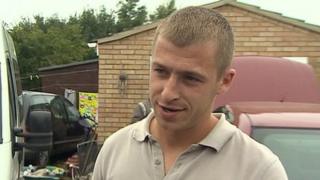 Two men and two women acting as illegal gang masters forced migrants to labour in farm fields for wages as low as £1 per week, a court has heard.
Latvians Ivars Mezals, 28, and Juris Valujevs, 36, allegedly brought people from the Baltic States to cramped houses in Cambridgeshire and Norfolk.
They got no work until they built up a "rent debt" from their accommodation, Blackfriars Crown Court heard.
The men deny acting as gang masters without a licence and fraud.
Mr Valujevs' wife, Oksana Valujeva, 33, and their close friend Lauma Vankova, 26, have pleaded not guilty to conspiracy to do an act to facilitate the commission of a breach of UK immigration law by a non EU person through arranging marriages.
Mr Mezals, from Conference Way in Wisbech, Cambridgeshire, Mr Valujevs and Mrs Valujeva, from Cresswell Street in Kings Lynn, Norfolk, and Ms Vankova, from Turbis Road in Kings Lynn, were arrested in raids led by Cambridgeshire Police.
The court heard threats and violence forced victims into labouring in the fields to work off their debts.
Migrants who complained about their unfair debt were told if "you don't pay your life will be ended like Alisa's (Dmitrijeva)" - the Latvian teenager found murdered on the Queen's Sandringham Estate in Wisbech, Cambridgeshire in 2012, the court was told.
The jury heard women were often forced into sham marriages and their debts appeared to be more than the men's while most of the migrants spent "back-breaking" hours picking vegetables.
The workers, mainly from Latvia and Lithuania, travelled to the UK voluntarily.
The two men promised regular hours, good pay and the "hope of a better life", Gregory Perrins, prosecuting, said.
"Work was withheld when a new worker first arrived so they built up a debt, initially for unpaid rent," he said.
"This debt was then used as a control, preventing them from leaving or living elsewhere.
"Workers were typically left with £20 a week. Women were offered the opportunity to clear their debts if they entered into sham marriages."