Price of Football: North West seaside clubs cheapest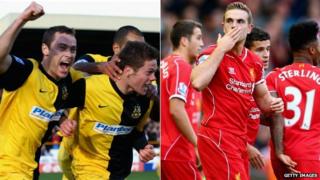 Three seaside football clubs offer the cheapest season tickets in the North West, a BBC Sport survey has found.
The Price of Football study discovered Southport, Fleetwood Town and Blackpool offer them for less than £200.
Manchester City were found to offer the cheapest season of top flight football, charging only £10 more than Macclesfield Town in the Conference.
The cheapest matchday food in the area was found at Southport and Rochdale, where they charged £2 for a pie.
The annual survey by BBC Sport, which started in 2011, looked at both the prices of club season tickets and the cost of a single match experience in 2014.
It found Southport, who play in the Conference, offered both the cheapest matchday and season tickets, while Premier League side Liverpool had the most highest matchday and season-long starting prices.
And while Manchester City offered the cheapest season ticket in the Premier League, they charged £4 for a pie, the highest of all the North West clubs.
In women's football, Everton Ladies were the cheapest option, offering a season's football for £26 and a game ticket for £5, while Manchester City Women were most expensive, charging £48 a season and £6 a game.
Season Ticket Prices
| Club | Division | Cheapest season ticket | Most expensive season ticket |
| --- | --- | --- | --- |
| Southport | Conference | £172 | £345 |
| Fleetwood Town | League One | £179.50 | £250 |
| Blackpool | Championship | £195.30 | £359 |
| Accrington Stanley | League Two | £200 | £250 |
| Morecambe | League Two | £219 | £419 |
| Altrincham | Conference | £240 | £290 |
| Blackburn Rovers | Championship | £249 | £429 |
| Bury | League Two | £250 | £250 |
| Tranmere Rovers | League Two | £255 | £342 |
| Chester | Conference | £255 | £342 |
| Rochdale | League One | £277.50 | £370 |
| Wigan Athletic | Championship | £280 | £385 |
| Macclesfield Town | Conference | £289 | £365 |
| Manchester City | Premier League | £299 | £860 |
| Bolton Wanderers | Championship | £304 | £474 |
| Preston North End | League One | £315 | £420 |
| Oldham Athletic | League One | £325 | £357 |
| Burnley | Premier League | £329 | £685 |
| Everton | Premier League | £444 | £719 |
| Manchester United | Premier League | £532 | £950 |
| Liverpool | Premier League | £710 | £869 |
Matchday Prices
| Club | Division | Cheapest match ticket | Most expensive match ticket | Price of pie |
| --- | --- | --- | --- | --- |
| Southport | Conference | £10 | £15 | £2 |
| Blackburn Rovers | Championship | £12 | £38 | £2.20 |
| Altrincham | Conference | £14 | £15 | £2.50 |
| Macclesfield Town | Conference | £14 | £18 | £2.90 |
| Bury | League Two | £15 | £15 | £3.20 |
| Tranmere Rovers | League Two | £15 | £18 | £2.50 |
| Chester | Conference | £15 | £18 | £3 |
| Rochdale | League Two | £15 | £20 | £2 |
| Wigan Athletic | Championship | £15 | £27 | £2.40 |
| Morecambe | League Two | £16 | £24 | £3 |
| Fleetwood Town | League One | £17 | £24 | £3 |
| Accrington Stanley | League Two | £20 | £20 | £2.50 |
| Oldham Athletic | League One | £20 | £22 | £2.80 |
| Preston North End | League One | £21 | £25 | £2.60 |
| Bolton Wanderers | Championship | £23 | £35 | £2.90 |
| Blackpool | Championship | £24 | £40 | £2.50 |
| Everton | Premier League | £33 | £47 | £3.20 |
| Burnley | Premier League | £35 | £42 | £2.50 |
| Manchester United | Premier League | £36 | £58 | £3.50 |
| Manchester City | Premier League | £37 | £58 | £4 |
| Liverpool | Premier League | £37 | £59 | £3.30 |