Martin Foran wins second miscarriage of justice appeal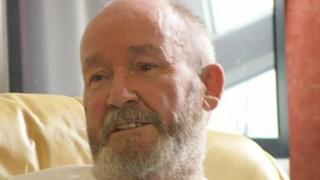 A terminally-ill man has won a second miscarriage of justice appeal over robberies he was mistakenly convicted of in the 1970s and 80s.
Martin Foran, 70, from Manchester, successfully challenged the credibility of officers from the disbanded West Midlands Police Serious Crime Squad.
The Court of Appeal overruled his 1978 conviction after a referral by the Criminal Case Review Commission (CCRC).
His conviction for a Birmingham pub robbery in 1984 was quashed last year.
'Long, hard battle'
Mr Foran, who has inoperable cancer, served six years of a 10-year sentence after he was convicted in 1978 for four counts of robbery.
"It has gone down in history as a double miscarriage of justice," he said.
"It has been a long, hard battle to get to this point and I have waited many years."
He previously told the BBC his dying wish was to go to his grave an innocent man.
---
West Midlands Serious Crime Squad
•The West Midlands Serious Crime Squad was involved in the convictions of the Birmingham Six
•The six men served 96 years between them for a crime they didn't commit - the bombings of two Birmingham pubs in 1974
•A total of 33 appellants have had their convictions involving the squad quashed
---
Police 'credibility'
The CCRC referred his 1978 case to the Court of Appeal saying it "considers that new evidence raises a real possibility that the court will now quash those convictions".
"The commission's referral is based upon evidence relating to the credibility of officers of the West Midlands Police Serious Crime Squad, who were involved in the case against Mr Foran."
It said it was "always good news" when its work is recognised by the Court of Appeal. It said: "We are always satisfied when our work helps to rectify a miscarriage of justice - that is what the commission exists to do."
The West Midlands Serious Crime Squad was disbanded in 1989, but a substantial number of convictions arising from investigations it conducted have been quashed over concerns about the practices of some of its officers, the CCRC added.
Tracy Gibbon, from Olliers solicitors, told the BBC: "Martin has won his appeal today. He's pretty gobsmacked by the results."
In Mr Foran's second case, Lord Justice Leveson said the conviction was unsafe after doubts emerged over the credibility of the principal police witness.
Speaking previously, Assistant Chief Constable Sharon Rowe, of West Midlands Police, said: "The officers involved in the case have since retired or left the force and a number of lessons have been learned since the original investigation was undertaken in 1985.
"The public should be reassured that West Midlands Police expects the highest standards of professionalism from its officers and staff and as such we have robust management and anti-corruption measures in place."
The BBC has contacted West Midlands Police for a comment.