Thousands of illegally-grazed horses in Kent and East Sussex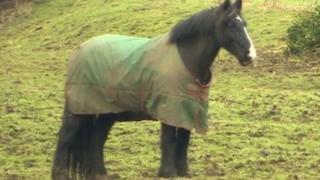 A quarter of the UK's 4,000 illegally-grazed horses are believed to be living in Kent and East Sussex, animal charities have said.
It comes as charities and rural organisations urge the government to follow the lead of the Welsh government and crack down on the problem.
Fly-grazing sees horses left in places such as roadsides and on waste land with little or no care from owners.
MPs are due to debate the Control of Horses Private Member's Bill on Friday.
Organisations including World Horse Welfare, the RSPCA, the National Farmers' Union, Countryside Alliance and the Blue Cross are supporting the bill, sponsored by Conservative York Outer MP Julian Sturdy.
Based around amendments to the Animals Act 1971, it is hoped it will define fly-grazing and require owners to pay back the costs of their animals' upkeep.
'Effectively stealing'
Roly Owers, World Horse Welfare's chief executive, said: "There are areas in the South East that are a real focal point for fly-grazing, partly because we have an over-supply of horses in this country for too few homes.
"But also because it's so easy to get away with, the perpetrators are never brought to book for effectively stealing other people's grazing, and also not caring for animals well enough."
In Dartford, removal of a single horse costs about £1,000.
Colin Newmarch, Dartford Borough Council's enforcement manager, said: "On council land it's taxpayers' money that clearly we shouldn't be paying out.
"Once the horses are seized, they then become in effect the property of the landowner to look after and care for."
He said the animals had to be looked after for a statutory 14-day period, with transportation and vets' bills adding to the cost.
"You're then stuck with the animal until such time they can be re-homed," he said.