MP Mark Pritchard agrees Sunday Mirror settlement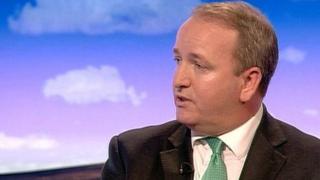 A Conservative MP has dropped a complaint against the Sunday Mirror newspaper prompted by a story that led to the fall of a government minister.
Brooks Newmark resigned last month after reports he sent explicit pictures of himself to an undercover journalist.
Mark Pritchard complained over what he called "questionable techniques" but the Sunday Mirror insisted its report was in the public interest.
Mr Pritchard said he had agreed an "amicable settlement".
As a result, the MP for The Wrekin said he had withdrawn his complaint to the Independent Press Standards Organisation (IPSO).
He said the details of the settlement were confidential.
The newspaper published a clarification, stating that while it did not publish allegations about the Shropshire MP, it was "happy to make clear that Mr Pritchard was not at any time suspected or accused of sending explicit messages and/or pictures to anyone via social media or otherwise".
Last month, Mr Pritchard said he had also been targeted by a male freelance reporter who, using Twitter, adopted the false identity of "Sophie Wittams", a "twenty-something Tory PR girl".
The reporter then contacted a number of Conservative MPs on the social networking site.
Earlier this month, Mr Newmark, previously minister for civil society, announced he would step down as MP for Braintree after fresh allegations that he sent explicit pictures from his phone.