Why do we risk embarrassing encounters with firefighters?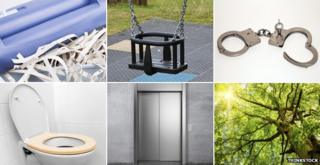 Last year, a man living in County Durham needed a curtain ring removing from his private parts. Fortunately, his local fire and rescue service was there to help. Mostly it is adults - not children - facing the bolt cutters with a red face, but why do we put ourselves in such embarrassing situations?
The curtain ring incident is just one of several bizarre stories unearthed from the incident logs of north-east England's fire and rescue services by a Freedom of Information request.
Others include a student being liberated from a water cooler cup dispenser by Tyne and Wear firefighters and someone being extracted from a newspaper stand they had tried to hide in.
In Northumberland, a child was released from a rolled-up carpet, an adult's hand was freed from a pram and someone unpinned from beneath a cooker.
There have been many rings stuck on fingers, people trapped in lifts, children shut in cars and people stranded on roofs.
Cleveland Fire Brigade's data suggests about 80% of "persons trapped" call-outs are to adults.
---
How the north-east of England got itself stuck - 2009 to 2014
---
Lifts top the list. Laura Marshall was leaving for a night out when the lift in the 15-floor tower block in Cruddas Park, Newcastle, "jolted to a standstill".
"We all laughed thinking it'd start again any second," she says. "An hour later, all feeling very cramped and sweaty, the panic of being trapped had certainly set in.
"All I remember after getting out is the fresh air and the need for a drink."
There are odder incidents but, no matter how ridiculous, Cleveland Fire Brigade district manager Steve McCarten says they "treat everything with the utmost urgency".
Whether someone is trapped in a lift or handcuffs it can be stressful, he says.
"We have had some strange ones. We would never turn round and say it was stupid [but] we might give them advice on how not to repeat it."
So why do people do things that are bound to end in embarrassment, or worse?
Dr Joan Harvey, a chartered psychologist at Newcastle University, believes it is because we are not very reliable when it comes to judging risk.
"What a lot of people perceive is that they are less likely to have things happen to them," she says. "We don't estimate risk at all sensibly.
"We're not going to get a horrible smoking related illness - that's what other people get, not us. It's other people who fall off roofs - not us. It's other people who get stuck in swings - not us."
Window cleaner John Kirk, from South Shields, was rescued after getting trapped on his roof while trying to mend a leak last year.
"I got up OK, just walked on the tiles," he said at the time. "But coming back down was a different matter."
He shouted for help but neighbours could not stop the ladder shaking.
"In the end they phoned the fire brigade out," he said. "Which was a Godsend - I could have been up there all night."
It should be said, often people get stuck - and seriously - through no fault of their own. But there is variety to how and where we get ourselves into trouble.
So much so, that fire and rescue services log call-outs in a number of categories, including "removal of people from objects" and the rather more wince-inducing "removal of objects from people".
Some incidents raise questions, though. How do you trap a knee behind a radiator or fall into a dishwasher so awkwardly you cannot get out?
In 2011 Danielle Morgan, a University of Derby student, was "mucking about" when she fell off a bed and ended up tangled in a clothes horse.
Her friends, who filmed her and took photos while she was trapped, "just thought it was hilarious", she said.
The lack of an "exit strategy", a plan for reversing the process themselves, is another reason people end up stuck, Dr Harvey believes.
Sometimes over-confidence comes from being "spurred on" by other people and showing off.
"I'm not entirely convinced that these adults would go in that swing if there was nobody else around," Dr Harvey added.
---
Have you been stuck and rescued? Please let us know at neandcumbria@bbc.co.uk
---
Cleveland and Northumberland occasionally charge for "non-emergency special services". A building's owner might get a bill for a stuck lift, for example, if none of the occupants is in distress.
County Durham and Darlington says it never charges but does ask those needing rings removed from fingers to come to the station.
Special care and sensitivity are required for what the fire service terms "bariatric" lifts - moving chronically obese people.
From 2009 until 2014, the four North East fire services helped health professionals move 198 people who had become stuck in chairs, slipped off sofas and beds or simply needed to go from one place to another.
"Sometimes we take windows out," said Mr McCarten. "We've had walls taken out before.
"If there's no way you can get them out the house because the opening's not big enough, then we have to make the opening big enough."