'Tree of the Year' competition finalists announced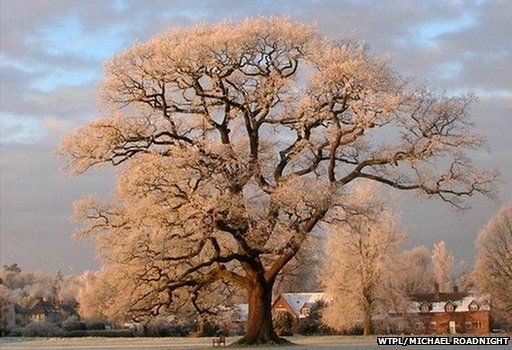 An oak said to have sheltered Robin Hood and his merry men, and a yew which spans an area the size of the Royal Albert Hall, are two of the finalists in the "Tree of the Year" competition.
Run by nature charity Woodland Trust, the contest's winner will be pitted against trees from other countries in an international competition next year.
The finalists include seven oaks, two yews and an apple tree.
The winner will be decided by public vote, which can be registered on the Woodland Trust website.
England Tree of the Year finalists:
Big Bellied Oak, Wiltshire
An old pollard in Savernake Forest that could date back to Saxon times. The Tree Council recognised its heritage in the celebration of the Golden Jubilee in 2002 by naming it one of fifty Great British Trees.
More than 1,000 years old, it is in Calderstones Park in Liverpool. Not having a formal court house, it is suggested the hundred court assembled beneath the tree in the Middle Ages.
Whiteleaved Oak, Herefordshire
Thought to be about 500 years old, it is situated at the southern end of the Malvern Hills. It is still used in druidic ceremonies and even has its own visitors' book.
Now next to the B1172 near Hethersett, the men who marched on Norwich in the Norfolk Rebellion mustered under the tree in 1549.
Newton's Apple Tree, Lincolnshire
Situated in the orchard of Woolsthorpe Manor, it is said to have inspired Sir Isaac Newton's theory of gravity, when an apple landed on his head as he sat underneath.
The Runnymede tree is estimated to be more than 1,400 years old. King John signed the Magna Carta in the "meeting meadow" opposite the yew. People can still climb up inside the tree's trunk.
Shugborough Yew, Staffordshire
The yew is thought to be more than 350 years old, with a span of 200 yards. According to the Woodland Trust, it is believed to be the widest tree in Britain and Ireland, and is still spreading.
Ickwell Oak, Bedfordshire
Situated in the village of Ickwell, it is within the boundary of the 175-year-old cricket club. A branch, which fell off in a storm, was turned into three seats used to mark the millennium celebrations.
An ancient tree in the village of Mistley, shiny "steps" have been worn into the back of the trunk by people climbing it over hundreds of years.
The Major Oak, Nottinghamshire
Located in Sherwood Forest, it is allegedly where Robin Hood and his merry men would shelter and sleep. It weighs about 23 tonnes.
Related Internet Links
The BBC is not responsible for the content of external sites.