Halloween: England's strange and ancient winter rituals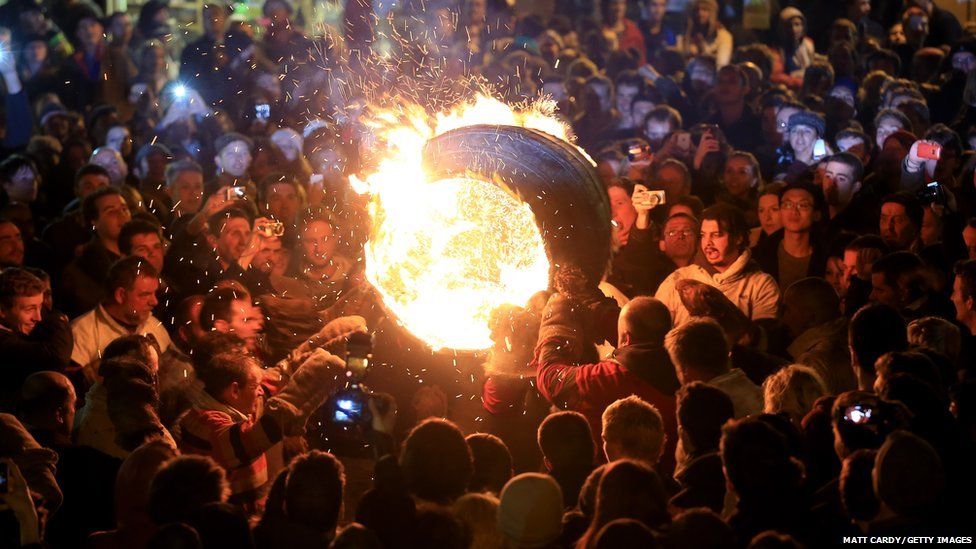 It is that time again. Supermarkets are bulging with large pumpkins to carve and shops selling skeleton outfits enjoy a roaring trade. But the Americanised version of Halloween casts a long shadow over the multitude of quirky - and sometimes barmy - English traditions that also take place during the autumn and winter months.
There are men who carry flaming barrels of tar through a Devon village, folk who pour cider over apple tree roots and cross-dressing troupes who perform something called Soul Caking to ward off evil spirits.
There is also a village in Somerset called Hinton St George which has a tradition of pumpkin carving and night-time walks that sounds remarkably similar to the Halloween rituals we all know.
The village's Punkie Night takes place on the last Thursday in October. Children carry "punkies" - lanterns traditionally made from a large turnip known as a mangel-wurzel - and stop at key locations to sing the Punkie Song.
Far from courting the dead like Halloween, the tradition allegedly stemmed from a bunch of inebriated villagers.
"The men folk of the village went to Chiselborough Fair about four miles away and they had too much to drink," says local historian Charles Bird.
"The women folk went to fetch them and, because it was so dark and windy, carved mangels and put a candle inside it".
It's Punkie Night tonight!
It's Punkie Night tonight!
Adam and Eve would not believe
It's Punkie Night tonight!
If you haven't got a candle
On the whole however, English autumn traditions are concerned with marking the end of the harvest and respecting the dead.
Photographer Sara Hannant, author of Mummers, Maypoles And Milkmaids, has made a pictorial study of these traditions.
"I noticed that lighting up the dark to guide or to repel spirits underpins many British folk customs," she said.
"Some of the current celebrations such as modern Halloween have inevitably developed from earlier practices."
She calls these times the "dark season" as she thinks of the year as "a turning wheel" with events in late October and November marking summer's end, the beginning of winter and the dark months ahead.
Halloween, on 31 October, has its roots in a pagan Celtic festival related to the Irish and Scottish festival of Samhain and the Christian festival of All Saints' Day - All Hallows - when prayers are offered for the souls of the dead.
"Samhain was commonly thought to be a time when supernatural forces were stronger than normal," Ms Hannant said.
"The veil between the everyday world and the afterlife is at its thinnest and many cultures honour their ancestors and welcome spirits."
Souling, for example, is a centuries-old tradition in Cheshire where actors known as mummers perform a play for All Souls Eve on 1 November.
John Dover, from the Halton Souling group, said the tradition was intended to protect communities against outsiders and dark spirits.
"Our play, lasting about 10 minutes, features a battle between Knight George and the Turkish Champion, with comic appearances from Beelzebub, The Old Woman (who is always played by a man), Little Jerry Doubt, the Drunken Doctor and the ritual three-legged Cheshire Horse with his Driver," he adds.
"Souling plays were fairly widespread until the 19th Century. The most famous ones performed nowadays are at Antrobus, Comberbach and Warburton."
The tradition is also known as soul caking - due to mummers traditionally handing out confectionery known as "soul cakes" to the audience at the end of the play. In an example of how tradition piles upon tradition, this is itself believed to be based on the even older medieval practice of handing out cakes to beggars in remembrance of the dead.
In the east of Kent, a similar ritual known as hoodening takes place each year in villages such as Sarre and St Nicholas-at-Wade about four days before Christmas.
This includes a troupe of costumed villagers carrying a wooden horse touring local pubs to perform a play which has death and resurrection as the theme.
Some believe it is an Anglo-Saxon custom, with the horse representing ancestral spirits.
The fight against evil spirits continues the following month in the orchards of southern England, where Apple wassails, or Apple Howling ceremonies, are common.
At one such ceremony in Worthing, West Sussex, cider is poured on to apple tree roots to encourage good spirits to produce a bountiful apple crop the following year.
Shots are also fired through the branches to ward off evil spirits.
There are also traditions which mark the rebirth of a new year.
The Allendale Baal Fire, in Allendale, Northumberland, takes place on 31 December and dates back to the Dark Ages.
Men carry shallow flaming whisky barrels on their heads across the square, possibly to ritually burn out the old year.
Other men dress up with painted faces and make merry at houses in the town to bring luck for the following year.
The Old Glory Dancers in Beccles, Suffolk, arrive by boat with blackened faces at the Locks Inn public house where they conduct a torch-lit ritual to mark the winter solstice.
"This is significant as the day on which the gradual lengthening of nights and shortening of days are reversed, and it is recognised as a time of rebirth," says Ms Hannant.
While many autumn and winter traditions have their roots in the distant past, a number have their roots in the Gunpowder Plot of 1605 in the 17th Century.
Imitations of Guy Fawkes are burned across England for Bonfire Night on and around 5 November, with perhaps the most famous celebration being held in Lewes, East Sussex.
The town also parades 17 burning crosses to remember the reported burning of 17 Protestant martyrs in its High Street between 1555 and 1557, during the reign of the Catholic Queen Mary.
Meanwhile in Somerset, November is the time for a large carnival which also dates back to the Gunpowder Plot.
The Guy Fawkes Carnival starts at Bridgwater in early November and over the coming weeks travels to Burnham-on-Sea, North Petherton, Shepton Mallet, Wells and Glastonbury before ending at Weston-Super-Mare.
Hundreds of thousands of people regularly attend and it is thought to be one of the largest illuminated processions in the world.
The Ottery St Mary Tar Barrel Festival, in Devon, on 5 November is also believed to have started after the Gunpowder Plot.
The tradition sees competitors - who have to have been born in the town - running with burning barrels on their backs until the heat becomes too unbearable or the barrel breaks down.
"At some stage through the ages Ottery St Mary decided rolling and kicking lighted barrels through the streets was a little tame so they were picked up and carried through the streets on the shoulders of the participants," said Andy Wade, president of the event.
However this is one tradition in danger of being snuffed out because of increasing public liability insurance costs. At last year's event 16 people suffered minor burns.
Mr Wade is adamant that "we must not and cannot let our traditions just fade away due to the pressures of modern living and bureaucratic intervention".
"The biggest threat to tradition is the inability of individuals to take responsibility for their actions."