Secure hospitals staff strike over pay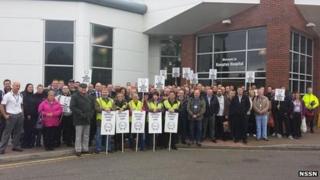 Staff from three high security psychiatric hospitals have walked out in a further strike over health workers' pay.
The POA union said many of its members will not receive a pay rise this year.
POA members at Broadmoor in Berkshire, Rampton in Nottinghamshire, and Ashworth on Merseyside walked out for four hours from 7:00 BST.
The Department of Health said plans were in place to ensure safety was not compromised during the strike.
'Dangerous job'
Steve Gillan, general secretary of the POA, said the union had called the strike "reluctantly" and made sure minimum cover would be arranged.
"It is regrettable that we are having to take this action, but we believe the government was entirely wrong to interfere with the recommendations of the NHS pay review body," he said.
"Our members are angry they have been treated in this manner. They do a dangerous job on behalf of society and deserve to be treated fairly."
Midwives, nurses, ambulance crews, radiographers and other NHS workers have all taken strike action in recent weeks over the same dispute, after the government decided not to accept a recommended 1% wage increase for all NHS staff.
The POA said a "high proportion" of its 1,300 members involved in the dispute would not receive a pay rise because of the government's decision.
POA members will work to rule following the strike, which followed a 4-1 vote in favour of action in a ballot.
A Department of Health statement said: "We are disappointed the POA is taking industrial action.
"The high security hospitals have plans in place to ensure the safety of patients, staff and the public is not compromised during industrial action."