Surrey residents in Gatwick flight path change petition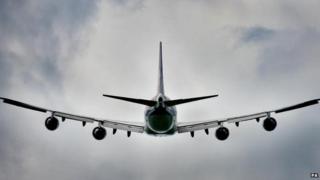 More than 1,200 people from towns and villages in Surrey to the north of Gatwick Airport have signed a petition opposing changes in flight paths.
Campaign group Plane Wrong said residents had been suffering more noise caused by aircraft making wider turns.
It follows a change to a departure route involving take-offs to the west, effective since last November.
The route is under review by the Civil Aviation Authority and the petition calls for the decision to be reversed.
Part of the revised route lies outside the permitted corridor known as the Noise Preferential Route, impacting on people who were not affected before.
Two public meetings organised by Plane Wrong were held in Beare Green and Redhill last week.
They were attended by local Conservative MPs Sir Paul Beresford and Crispin Blunt and the Civil Aviation Authority, and enabled those affected to voice their opposition to the changes to Gatwick Airport's flight paths.
Chairman of Plane Wrong, Mike Ward, said: "It's one plane after another whereas before there used to be maybe an occasional plane...we want the flight paths back where they used to be."