Banbury United v Slough Town match abandoned after referee 'hit by bottle'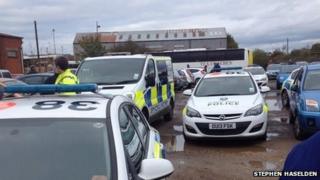 A non league football match was abandoned after the referee was hit by a bottle thrown from the crowd, it has been claimed.
Banbury United said the official called off its Southern League Premier game with Slough Town at half time.
Thames Valley Police attended Spencer Stadium at about 16:00 BST and said it was investigating after a bottle was thrown onto the pitch.
Reports on social media have suggested the bottle hit the referee.
In a statement on its website, Banbury United said: "The football club regrets that today's game had to be abandoned at half time.
"The club will carry out a full investigation into the half-time incident and co-operate with the relevant authorities.
"Supporters should retain tickets as they will be valid for the restaging of the game."
The match had started at 15:00 and the home side was losing 2-1 when the game was halted.
There have been no reports of any arrests.