Five North West cathedrals given repair grants from First World War fund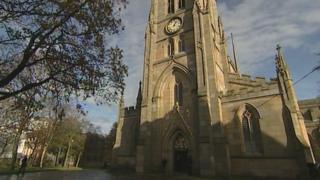 Five cathedrals in the North West of England have been awarded a share of £8m from the First World War Centenary Cathedral Repair Fund.
Blackburn Cathedral will receive the most money in the region (£314,251), while Chester Cathedral gets £300,000.
Other awards include £275,000 to Liverpool Anglican Cathedral, £225,000 to Manchester Cathedral and an award of £15,000 to Lancaster Cathedral.
Thirty-one cathedrals in England have been awarded money for urgent repairs.
Money will go towards fixing leaking roofs and repairing stained glass windows and spires.
It is the second round of grants from the fund. The initial slice, in July, provided £5m for 21 buildings.