Dr Abbas Khan 'unlawfully killed' in Syria jail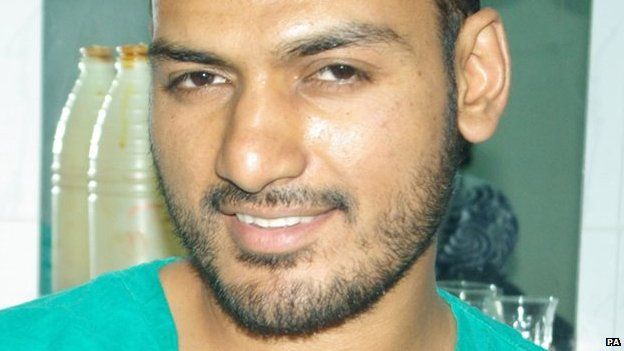 A British doctor who died in a Syrian prison was unlawfully killed, a London inquest jury has ruled.
Dr Abbas Khan, 32, a father-of-two from south London, died on 16 December 2013 while in custody in Damascus.
His family claims he was murdered. The Syrian government maintains he was found hanging in a jail cell.
The Middle East Foreign Office Minister said those responsible for Dr Khan's death should be brought to justice.
The jury at the Royal Courts of Justice heard there was no evidence Dr Khan had gone to Syria to fight. It said the cause of his death was "unascertained".
In its ruling, the jury said Dr Khan died in an "unknown prison or place of detention" in Damascus.
The jury forewoman announced: "Dr Khan was deliberately and intentionally killed without any legal justification."
Asked what the jury's conclusion was "as to the death", she replied: "Unlawful killing."
The jury had been asked to consider whether Dr Khan took his own life, or if he was "forced in some way by his captors to take his own life against his will", or if he was "unlawfully killed" by his captors.
Among the witnesses called over two weeks was Respect MP for Bradford West George Galloway.
He said he sent a formal appeal for clemency to Syria's president and was given an assurance Dr Khan would be released after the process of a court case.
Dr Khan, a father-of-two from Streatham, was arrested in Syria 48 hours after arriving in the country to work in a field hospital in a rebel-controlled area in November 2012.
He entered without a visa, but he later told his family he was "accused of treating dying civilians (women and children), which has been classed as an act of terrorism".
He was found dead in prison days before he was due to be released. His family maintained it was "inconceivable" he would have taken his own life when he was about to leave.
Tobias Ellwood, Foreign Office Minister for the Middle East, said the government would now "consider next steps".
He said: "Dr Khan's imprisonment without consular access was unacceptable. The Foreign Office consistently sought access and pressed for his detention to be reviewed, including through ministers and international partners.
"The Syrian regime ignored these approaches. It can no longer do so. His family deserve answers and those responsible for Dr Khan's death should be brought to justice."
Outside court, Dr Khan's brother Afroze said: "Today, our position as a family has been vindicated completely.
"All the allegations against my brother - that he had gone for any other reason - have been disproved today.
"We have always maintained that he was mistreated, maltreated and tortured by the Syrian authorities and that he was murdered by the Syrians."
Dr Khan's mother Fatima travelled to Damascus in July 2013 and visited a number of embassies and prisons to track down her son.
She eventually saw him at the Court of Terrorism where he appeared like "a skeleton".
Following the latest hearing, she said: "There was no justice in Syria like we have British justice here - no court, no justice - otherwise my son would have been released.
"I couldn't save my son. I trusted judges, lawyers and ministers but everyone lied to me. They stabbed me in my back."
The family's counsel, Michael Mansfield QC, said it was an important case which laid down a marker and should now go forward to the International Criminal Court.
"What this jury has done is uncover the truth - that it was never suicide," he said.
Related Internet Links
The BBC is not responsible for the content of external sites.