Birthday fan sees 16 goals by Saints and Bournemouth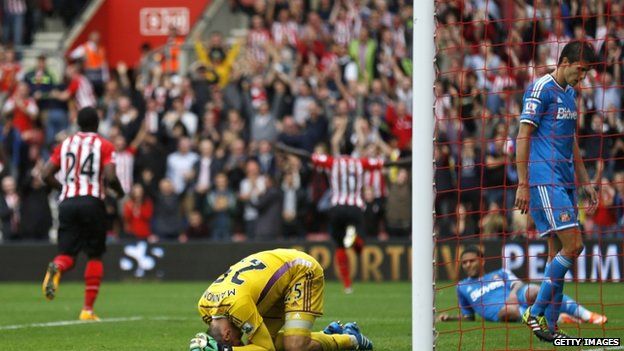 A football fan celebrating his birthday saw his two favourite teams beat their opponents by 8-0 within days.
Family members treated Jack Street to match tickets for Southampton and Bournemouth for his 70th birthday.
Mr Street went to Saints St Mary's Stadium on 18 October and was amazed to see the Premier League-side seal Sunderland's biggest loss in 32 years.
A week later, Mr Street, of New Milton, Hampshire, saw Bournemouth's incredible away win at Birmingham City's ground.
Mr Street, who has been to only a handful of games since the mid-1990s, said the goals at Southampton took him by surprise.
"I didn't realise it was going to be special, it just happened," he said.
"But when I was at Birmingham and it got to five-nil, I said 'I've got a feeling this is going to go the same way and end in eight goals.'"
Mr Street had season tickets for Bournemouth and Southampton when he was aged in his 30s and 40s.
"For about 20 years I had season tickets for both grounds and we used to go to alternate matches, but of course tickets were a lot cheaper in those days," he said.
Mr Street said his "allegiance was really more with Bournemouth" and he had been particularly excited by the Championship club's signing of Coventry striker Callum Wilson in the summer.
"I just thought this new chap Callum Wilson is in a different class," he said.
Wilson was among the players who engineered the Blues' worst home defeat in their history.
But Mr Street, who went to the match while visiting relatives in the Midlands, including Blues supporters, said he had expected a "tough game" but believes Birmingham City's morale was hit by the sacking of its manager Lee Clark days earlier.
Mr Street said he was pleased he had witnessed the memorable games and had had "a perfect birthday".
"The atmosphere was great at both places," he said. Mr Street said his daughter, a Portsmouth fan, now wants him to bring his magic to their ground.
Related Internet Links
The BBC is not responsible for the content of external sites.