Naked rambler Stephen Gough loses human rights case
By Danny Shaw
Home affairs correspondent, BBC News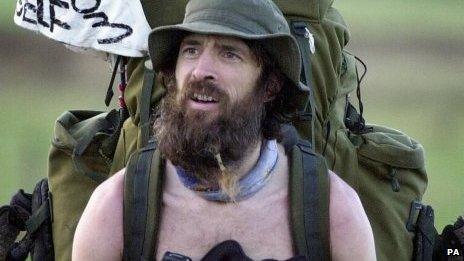 The so-called naked rambler Stephen Gough has lost his case at the European Court of Human Rights after claiming he suffered repression over his nudity.
Mr Gough, 55, complained about his repeated convictions and imprisonment.
Since 2003 he has been arrested dozens of times in Scotland and England for being naked in public.
He was convicted a number of times for breach of the peace, with his sentences increased with each offence and was often rearrested as he left prison.
Between May 2006 and October 2012 he enjoyed a total of seven days' liberty and spent most of his detention in segregation because he refused to wear clothes.
Mr Gough, from Eastleigh, Hampshire, went to the European Court of Human Rights (ECHR) in Strasbourg complaining about the "repressive" measures taken against him, relying on Article 8 - the right to respect for private and family life - and Article 10 - freedom of expression.
The ECHR dismissed his case.
After the verdict he said: "How can nature expressed in human form be indecent?
"How can any sane person be offended at seeing the human body?
"Today's decision from the ECHR is a disappointment.
"I expected them to take the wider view. They have not. Then again, what great endeavour ever succeeded without having to surmount many obstacles that stood in its way.
"Why should it be any different for me? I have no choice but to continue."
The court said: "The applicant's case is troubling, since his intransigence has led to his spending a substantial period of time in prison for what is, in itself, usually a relatively trivial offence.
"However, the applicant's imprisonment is the consequence of his repeated violation of the criminal law in full knowledge of the consequences, through conduct which he knew full well not only goes against the standards of accepted public behaviour in any modern democratic society but also is liable to be alarming and morally and otherwise offensive to other, un-warned members of the public going about their ordinary business."
It continued: "Article 10 does not go so far as to enable individuals, even those sincerely convinced of the virtue of their own beliefs, to repeatedly impose their antisocial conduct on other, unwilling members of society and then to claim a disproportionate interference with the exercise of their freedom of expression when the state, in the performance of its duty to protect the public from public nuisances, enforces the law in respect of such deliberately repetitive antisocial conduct."
Regarding Article 8, the court said: "Any interference with the applicant's right to respect for his private life was justified under Article 8 for essentially the same reasons given by the court in the context of its analysis of the applicant's complaint under Article 10 of the convention."
Earlier this month, Gough was jailed for two-and-a-half years after walking out of prison wearing only his boots and socks.
The former Royal Marine was found guilty by a jury at Winchester Crown Court of breaching an anti-social behaviour order (Asbo).
Related Internet Links
The BBC is not responsible for the content of external sites.