Sussex Halloween event condemned after armed police alert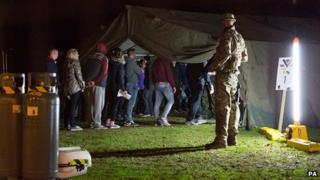 A Halloween event that saw participants bundled into vans by masked men with BB guns has been condemned by police.
Armed officers descended on the Outbreak "physical horror" event in Hurstpierpoint, West Sussex, after a concerned passerby called the police.
Sussex Police said they had strong words with organisers who inadvertently placed people at "significant risk".
Outbreak spokesman David Parker said it was a "case of crossed wires".
Up to 1,000 people took part in the experience on Friday, Saturday and Sunday, which White Knuckle events claimed gave participants the chance to "star in a real life apocalypse movie".
'Police and helicopter'
People taking part were warned to expect to get wet and muddy and to have to "crawl, climb and navigate areas of reduced lighting".
Mr Parker added: "We believe a member of the public walking past the private land where the event was taking place saw one of the scenes where people with replica guns force participants into the back of a truck and called the police.
"Before we knew it, armed police and the helicopter had been despatched."
"As soon as they realised the guns were plastic, it all ended very quickly," Mr Parker said.
He said Sussex Police were aware the event was taking place, a claim the force has denied.
Supt Rex Matthews said: "We would actively discourage people from carrying even imitation firearms in any public place.
"The threat level from international terrorism in Britain is currently assessed as severe and there have been a number of terrorist plots thwarted.
"At times like this, incidents such as the one on Sunday are clearly going to worry local residents and the public who were unaware of the intentions of the event organisers."