Norwich to London rail line 'needs £400m'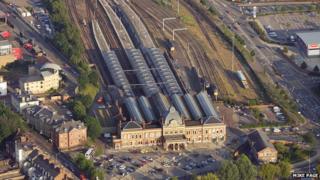 It must be a busy time for the staff who work in the post room at the treasury.
Every day, it seems, another plea for money for an important infrastructure project is sent to the chancellor as he puts the finishing touches to his Autumn Statement.
One of them is the business case for improving the main rail line between Norwich and London. The local enterprise partnership is asking for £400m to fund new rolling stock and improvement to track.
"It is the strongest and most compelling case for investment I have ever seen," Mark Pendlington, Chairman of the New Anglia Local Enterprise Partnership (LEP), told MPs.
"The government must take notice, otherwise we are consigning passengers from an area that is one of the two main contributors to the treasury, to years of misery" .
Last week the Ipswich MP, Ben Gummer, handed in a request for a feasibility study into an £80m project for a new river crossing in the centre of the town, which would also open up land for new development.
"This is critical to the future of out town," said Mr Gummer. "The government wants to put money behind infrastructure that drives growth, this is one of those projects."
Projects in the East
Then there are the long running campaigns to improve the A47 in Norfolk and Cambridgeshire, the A120 in Essex, the calls for new river crossings in Great Yarmouth and Lowestoft, a new rail line in the Fens and the completion of the East/West rail link between Oxford and Cambridge.
And those are only the campaigns being fought in our region. From the North East of England to the tip of Cornwall, MPs are lobbying for road, rail and housing schemes, all of which, they argue, will benefit the economy.
So either the chancellor is planning to announce a massive spending spree on 3 December or a lot of MPs will be very disappointed.
Money is very tight and any viable budgets have already been allocated for the next few years. With a general election just six months away, any new projects are unlikely to go ahead in the near future.
Spending plans
The best the chancellor can offer is a promise that if his party wins the next election outright, some of these schemes will start to get funding in a few years time.
If any other party wins the election, or if there is another coalition, new priorities will have to be agreed and all these schemes will be back in the melting pot.
It is, of course, good that long-standing issues like the state of the region's roads and railways are being raised at the highest level. This hasn't always happened.
There's hope that there will be lots of positive news for the eastern region in the Autumn Statement but don't hold your breath.