Queen opens i54 JLR manufacturing centre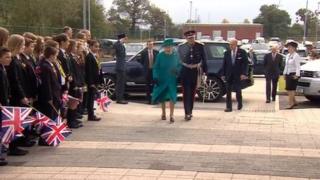 The Queen has formally opened a £500m Jaguar Land Rover engine manufacturing centre near Wolverhampton.
The i54 business park site is to start full production in 2015 and the scheme will create nearly 1,400 jobs when the plant reaches full capacity.
The Queen and Duke of Edinburgh toured the manufacturing facility, met staff and apprentices and looked at vehicles, engines and tools.
They also met children involved in educational engineering design schemes.
The Queen unveiled a plaque to mark the opening of the facility on the Staffordshire-Wolverhampton border.
About 400,000 engines will be produced at the plant every year - one rolling off the production line every 30 seconds.
The facility will manufacture a new family of engines called Ingenium, the first engines to be entirely designed and built in-house by Jaguar Land Rover, for exclusive use in the company's future vehicles.
The company has other manufacturing sites in Castle Bromwich and Solihull in the West Midlands and Halewood on Merseyside.
The Queen and Duke of Edinburgh also visited International Security Printers to see the work of the specialist postage stamp printers.
In 2011, Jaguar Land Rover announced it was to build its new engine manufacturing centre at the site and aviation company Moog, and laboratory testing company Eurofins, decided to relocate there.
Staffordshire County, Wolverhampton City and South Staffordshire councils collaborated for the creation of i54 business park.
Professor David Bailey, from Aston Business School, said the engine manufacturing centre was "hugely important" to Jaguar Land Rover.
He said: "Previously they'd bought in engines from Ford, but by doing it themselves it gives them much greater strategic control over it.
"They can produce engines that they need for different models at different brands at different times, so really important for the company going forward."