Consett KP Snacks factory 'to close next year', union says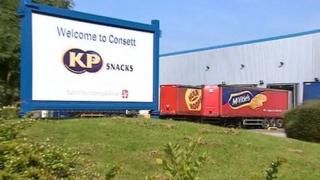 A crisp factory in County Durham is to close next year the GMB union has said.
KP Snacks announced in September it was considering closing its Phileas Fogg factory in Consett in an attempt to streamline its business.
GMB organiser Suzanne Reid said the closure, due in 2015, was confirmed at a meeting she attended with the company's UK directors on Wednesday.
A spokesman for KP denied the factory was closing and said the "consultation process had not finished yet".
The manufacturer makes a number of well known brands, including Hula Hoops, Skips and Phileas Fogg, as well as the original KP nuts brand.
The factory in Consett, the original home of Phileas Fogg crisps, employs 103 workers.
Ms Reid, said: "This is a devastating blow for our members, their families and the community of Consett.
"The workforce are a dedicated, skilled and passionate."
She said dialogue was continuing with the company regarding possible redeployment opportunities at the Billingham and Tanfield sites, both in County Durham.