South East ambulance crews in sepsis screening drive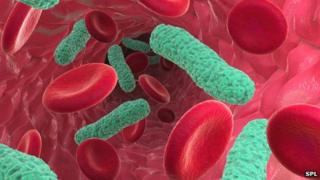 Paramedics are using a new screening tool to check for a deadly blood condition and deliver key treatment on the way to hospital if it is diagnosed.
South East Coast Ambulance Service (Secamb) is introducing a new pathway for treating sepsis this month.
It follows a successful trial of the screening tool at Epsom hospital.
The aim is for the patient to receive intravenous antibiotics in hospital within one hour from the time of diagnosis by an ambulance clinician.
Blood clotting
NHS England advised all trusts to raise awareness of sepsis in September.
Paramedics tweeting as part of an awareness drive said the new Secamb pathway allowed key treatment to be completed "in the field".
That action may see crews giving oxygen and intravenous fluids to a patient and pre-alerting the hospital to their arrival.
The ambulance trust said sepsis was a little-known condition that killed about 37,000 people in the UK every year.
Information from the NHS described sepsis as a common and potentially life-threatening condition triggered by an infection.
With sepsis, the body's immune system goes into overdrive, setting off reactions including widespread inflammation, swelling and blood clotting.
Early symptoms include fever, chills, shivering, a fast heartbeat and fast breathing, and more severe symptoms of septic shock include dizziness, confusion, nausea, vomiting and diarrhoea.