M3 roadworks: Work to add fourth lane starts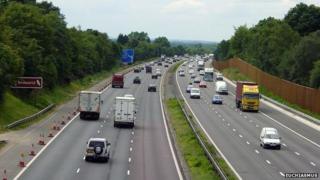 Work has started to widen the M3 motorway by converting the hard shoulder to a fourth lane.
The project will add an extra lane in both directions along a 13.4-mile route between junctions 2 and 4a through Hampshire and Surrey up to the M25.
Three lanes will be kept open in daytime hours during the work but night working will also be required.
The bulk of the project, which will cost between £138m and £198m, should be completed by the end of 2016.
The first phase got under way earlier with cones being put along the eastbound carriageway from junctions 4 to 4a.
The roadworks are predominately taking place from Monday to Friday, although occasional weekend work may be needed.
The Highways Agency has reassured motorists that when the hard shoulder comes into use refuge areas will be set up at various points in the event of breakdowns.
CCTV operators will also be trained to spot problems and close lanes to allow emergency access.