East Midlands roads are Britain's most dangerous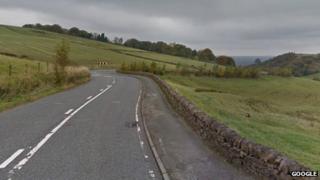 Risk of death and serious injury is higher on major roads in the East Midlands than any other region.
There were 1,937 crashes causing death or serious injury on East Midlands motorways and A roads between 2010 and 2012.
The risk of one of these types of crashes was two-thirds higher than in the neighbouring West Midlands.
The data was compiled in a report by the Road Safety Foundation.
The charity's chairman, Lord Whitty of Camberwell, said: "The differing risk in each region is explained very largely by how much travel there is on safe roads and how much on risky roads.
"The busier the road, the more frequently any flaw in layout leads to death and serious injury."
There was an average of 31 fatal and serious crashes per billion vehicle kilometres travelled in the East Midlands from 2010 to 2012.
This compares with an average of only 17 in the neighbouring West Midlands - the lowest of any region or nation.
The A537 Cat and Fiddle route in the Peak District was named as the most dangerous road last year.
This year's report says speed reduction measures implemented in 2010 have resulted in this "infamous" route being 28th in the list of "most improved" routes.
However, it was still the highest risk road in Britain for 2010-12.
There were 11 fatal and serious crashes on the 7.5-mile (12km) stretch over this period.
The single carriageway route is characterised by sharp and often blind bends, and 55% of the crashes were "run-offs" - where a car leaves the road.