Coastal route in West Sussex named most dangerous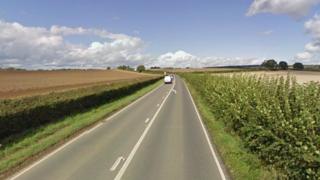 A 12-mile (19.31km) coastal route in West Sussex has been named as the most persistently dangerous section of road in Britain, according to a report.
The Road Safety Foundation (RSF) compiled the publication called How Safe Are You on Britain's Roads.
It found the A285 between Chichester and Petworth was the most dangerous, as fatal and serious crashes had risen 16% from 18 to 21 between 2007 and 2012.
A 10-mile (16.9km) part of the A809 in Glasgow was found to be the next worst.
The report looked at high-risk and medium high-risk roads which have shown little or no change in accident levels or which had increases in crashes between 2007 and 2012.
The RSF said safety measures on the A285 were not enough and "more far-reaching intervention" was needed.
'Warning signs'
A West Sussex County Council spokesman said the road was a priority and that it had invested in safety schemes with more works planned.
"These improvements include lowering speed limits, installing flashing warning signs and enhancing static signs," he said.
The third most dangerous road was a section of the A937 at Montrose, Angus.
Other roads mentioned were a stretch of the A18 between Laceby and Ludborough in Lincolnshire, a section of the A6 at Lancaster and part of the A61 at Wakefield in West Yorkshire.
The RSF report also showed fatal and serious crashes had been reduced by 80%, from 237 to 52, on 15 stretches of roads it looked at because councils had done low-cost maintenance with routine maintenance.