East of England Ambulance target failures 'down to lack of staff'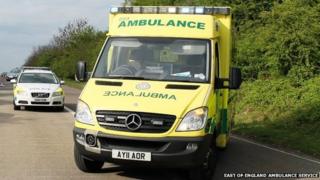 A continued lack of staff is why an ambulance trust keeps failing to meet its targets, its chief executive said.
Six-month figures for the East of England Ambulance Service show it failed to reach its 75% target for attending emergencies within eight minutes in most of its 19 NHS regions.
In north Norfolk, rapid responses during one month were as low as 25%.
Anthony Marsh from the service said it was "not good enough", but he said "significant progress" had been made.
The ambulance service has been criticised for years for poor response times and fined thousands of pounds.
Dr Marsh was hired in January to turn the service around, but his appointment has been marked by criticism over his salary and expenses.
'Not enough staff'
The latest figures released by the ambulance service show between April and September the targets for attending Red 1 and Red 2 life-threatening calls were repeatedly missed.
In May in north Norfolk, Red 1 calls - classed as being the most time-critical - were only reached within eight minutes 25% of the time.
In September the area's Red 1 response figures had risen to 42%, with Red 2 calls - classed as life-threatening, but not as time-critical - being reached on time in 36% of cases.
Dr Marsh, who said the trust was short of 700 paramedics when he joined, said: "Our staff are working as hard as they can to get to patients as quickly as possible, but there are not enough staff to deal with increasing numbers of 999 calls.
"We are tackling these issues and we have made significant progress.
"I am very proud of my staff for working under this extraordinary pressure. I ask that we all please support our ambulance staff."
This year the service has so far recruited 536 student paramedics and 69 graduate and qualified paramedics and emergency medical technicians.