HS2 East Midlands hub: Couple fears over Breaston site plan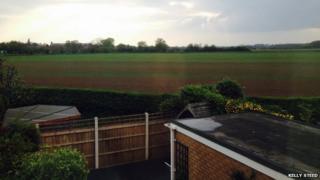 A couple who moved house because of the possibility an HS2 railway station could be built nearby have found out it could now be built near their new home.
When Kelly and James Steed moved from Toton in Nottinghamshire 16 months ago, they thought they had found their "forever home" in Breaston.
Now, it has been revealed the station may be built in the Derbyshire village, they fear traffic and building "chaos".
HS2 said no decision has been made over a new route for the high-speed line.
Mr and Mrs Steed said they believe HS2 is following them.
"It's a bit of a curse, really," Mrs Steed said.
"We bought this house to be our forever home. We moved to the village thinking this is a brilliant location for us to live our lives and eventually retire.
"Nobody wants a big train station on their doorstep."
Toton - a suburb of Nottingham - was suggested as the location for the East Midlands hub for the proposed high speed line last year.
But chairman of HS2, Sir David Higgins, questioned whether the East Midlands stop on the route between Birmingham and Manchester should be there, in his report Rebalancing Britain last week.
East Midlands politicians, including Broxtowe MP Anna Soubry, have said the most likely alternative would be Breaston.
'Lot of speculation'
At a public meeting in the village on Friday, Erewash Borough Council leader Chris Corbett said it was "dreadful and unfair" for HS2 to suggest other options for the route.
Councillors said there was unlikely to be a decision on the route until next summer.
Mrs Steed said they were unsure about whether they will move again.
"There's a lot of speculation about where it could be in the village and then it's understanding what impact it would have," she said.
"It's going to increase the traffic through the village. Whilst they are building it, there will be absolute chaos."