Terra Nova school abuse: Teacher admits pupil sex assaults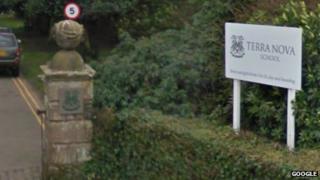 A former French teacher has admitted sexually abusing 24 pupils at an independent boys school in Cheshire.
Keith Cavendish-Coulson, of Crookham Hill, Crookham Common in Berkshire, pleaded guilty to 42 counts of indecent assault on boys aged eight to 13 at Terra Nova School in Cheshire.
The abuse took place in classrooms and dormitories between 1973 and 1975.
At Chester Crown Court, the 71-year-old also admitted abusing one boy he privately tutored.
Claire Lindley from the Crown Prosecution Service said: "Keith Cavendish-Coulson presented himself as a friendly and approachable teacher in order to carry out a string of sexual offences against the pupils in his care.
"He used this position of authority to target young boys who trusted their teachers and were often living far away from home."
She said his abuse has had a "profound effect on his many victims".
He will be sentenced on Thursday.