Digital mosaic of fallen World War One private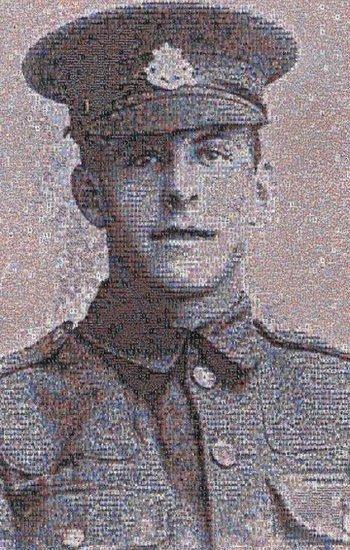 A digital mosaic of a British Army private killed during World War One has been created using more than 30,000 images.
Photographs of thousands of people taken at BBC World War One at Home Live events were used to make the image of 23-year-old Pte James Ernest Beaney.
Pte Beaney's great niece said the family were "proud and honoured".
The artwork also includes hundreds of original images from World War One.
Artist, Helen Marshall, 43, said she looked through hundreds of World War One images before choosing Pte Beaney.
"This portrait image was selected not only because of its important historical context, being sited clearly in its own time, but because it is a face that could also exist in the here and now, in our time.
"It could easily be a portrait of our father, brother or friend, taken yesterday.
"I knew his image would work, because he's looking directly at the camera and he looks like your average man."
Pte Beaney's great niece Irene Ingles, who lives in Gosport in Hampshire, said her family were "very proud and honoured" his image was chosen for the project.
"It's like having a long-lost relative we never really knew, suddenly come in to our lives. It's affected us all emotionally."
The man behind the mosaic
Pte Beaney was born on 16 April 1893 in Battersea, London.
Before joining The Queen's Regiment (Royal West Surrey Regiment) in August 1914, he worked as a plumber's mate.
He was sent to France in May 1915 and was serving with D Company, 6 Battalion near Martinsart Wood, France, when he was killed on 8 August 1916.
He was buried nearby in Bouzincourt Communal Cemetery Extension.
His mother Maria chose the following inscription for his headstone: "He bravely answered Duty's call and died so nobly for us all."
Source: The Imperial War Museums
Ms Marshall said creating the image was "pushing the technology to its limits".
"It's a bit like a painting, we produced 30 versions of it until we were happy."
She said creating a digital mosaic was "unpredictable because you're trying to control the results visually which takes time and experience".
Ms Marshall, who lives in London and has a photography background, said: "I'm happy with the artwork. It's unassuming and is quite an enjoyable piece which also commemorates the past.
"I'm hoping it will have a life of its own."
The image can also be seen at IWM North in Manchester on 8 and 9 November with an accompanying film. It has also been recreated on the floor outside the BBC's New Broadcasting House offices in London.
More than 30,000 photographs were used to make the image of Pte Beaney which included:
20,000 photographs from the BBC's World War One at Home Live Events
800 original World War One portrait images from The Imperial War Museums
240 public submissions of World War One images
Some of the images in the mosaic have been repeated
David Holdsworth, controller of English Regions who commissioned the mosaic on behalf of BBC English Regions, said: "We always aim to put audiences at the very heart of what the BBC does and on this occasion we have been able to achieve that literally.
"The WW1 at Home tour has been a huge success as these 20,000 pictures of people who came along show.
"The mosaic represents the spirit of WW1 At Home, our landmark UK wide project to tell powerful, fascinating and moving stories about the impact of WW1 in local areas right on our doorsteps."
Related Internet Links
The BBC is not responsible for the content of external sites.