Deal barracks IRA bomb letters go on display in Portsmouth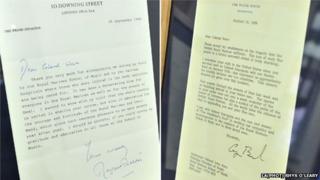 Letters of condolence from President Bush and Margaret Thatcher sent to the Royal Marines in the wake of the IRA Deal bombing in 1989 - which killed 11 musicians - have gone on display.
Terry Holland, one of 22 bandsmen injured in the blast, has also donated the watch he was wearing to the Portsmouth Naval Base exhibition.
It shows the exact time the bomb went off.
The exhibition marks the 25th anniversary of the bombing.
'Brutal terrorist attack'
The explosion at Deal barracks in Kent, then home to the Royal Marines School of Music, happened on 22 September 1989.
The barracks and several nearby homes were also extensively damaged.
Following the blast, Prime Minister Margaret Thatcher and US President George HW Bush wrote letters to the Royal Marines' principal director of music, Lt Col John Ware.
The letter from President Bush reads: "Please accept my condolences on the tragedy that the British Royal Marines suffered.
"The loss of such fine people in a brutal terrorist attack is truly shocking."
Mrs Thatcher wrote to Col Ware after he accompanied her to visit the wounded in hospital, describing it as a "devastating blow".
"I wanted to show on my visit that the whole country is intent on sharing your sorrow, but also in admiration for the courage and fortitude of the Royal Marines and their band which gives so much pleasure to so many people year after year," she wrote.
'Lucky to be alive'
Col Ware presented the letters to the school of music, which relocated to Portsmouth in 1996, for display in its new memorial room at the naval base.
He said: "Even after 25 years I get a tremble every time I read the letters."
Mr Holland, who was in intensive care for two weeks after the blast, said: "The bomb went off in the rest room and my watch still says 8:22am but to be honest I don't recall anything else."
He said he was "lucky to be alive".
"Eleven of my friends were not so lucky," he added.