Tottenham Hotspur backs down over Alnwick shop name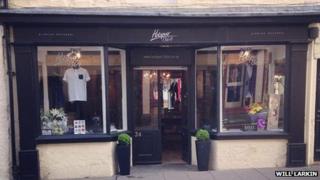 A menswear shop in Northumberland has beaten a Premier League football club in a battle over naming rights.
Tottenham Hotspur had asked the owner of Hotspur 1364, a newly-opened boutique in Alnwick, to stop using the name as the club owned the trademark.
The owner, a Newcastle United fan, said it was named after locally-born late medieval knight Sir Harry Hotspur and not the north London football team.
Tottenham has now accepted the heritage link and backed down.
Shop owner Lisa Aynsley said her business was branded around the "strong male warrior", and the name "linked nicely with the Alnwick heritage".
She said: "I got a registered letter saying [Tottenham Hotspur] owned the brand and I had to change everything.
"At first I thought 'common sense will prevail', but with huge companies sometimes that goes out of the window.
"It took me eight months to build up the brand, forge relationships with suppliers, and I would have had to change everything."
Harry Hotspur
Born Henry Percy in Alnwick on 20 May 1364, the eldest son of Henry, 1st Earl Northumberland
Given the name "Harry Hotspur" or simply "Hotspur" due the speed and ferocity of his attacks on the Scottish borders
Owned land in Northumberland and what is now north London
Killed in battle in Shrewsbury in July 1403, remains eventually interred at York Minster
So she contacted the club and explained the heritage and location of her business.
It then held a meeting and decided to let her keep the name.
"In all fairness, they were great", Ms Aynsley said.
"They even told me they'd had a chuckle at the line about me being a Newcastle fan."
A Tottenham Hotspur club spokesman said: "We share a number of similarities with Alnwick, including a link to Harry Hotspur, who has made a significant contribution in their town and our club's history.
"We are respectful of their association with the use of Hotspur in this regard."