Horse Hill oil protesters cautioned after rig demo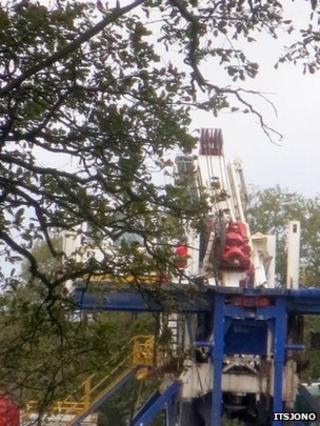 Two protesters have accepted cautions after being arrested while an oil drilling rig was being removed from an exploration site in Surrey.
Police said a man and a woman, both in their 40s, were arrested on suspicion of wilful obstruction of the highway at Horse Hill, near Horley on Monday.
A spokesman said the arrests took place after a small group of protesters gathered near the site entrance.
Anti-fracking campaigners set up a camp in woodland near the site last month.
Horse Hill Developments has been drilling at the site, a few miles from Gatwick Airport, for a 60-day exploratory period.
The company has said it guarantees the fracking technique will not be used to extract the oil that has been found there.
But Frack Free Surrey said it feared the company was "checking out" the site for potential fracking in the future.
Geologists have suggested that the oil and gas reserves at the Horse Hill site could be worth about £2bn, with production beginning in about two years.
A spokesman for the protesters said the rig was dismantled on Saturday but there were no truck movements over the weekend.
He said the arrests were made during protests while vehicles carrying the rig and other equipment were leaving the site.
Horse Hill Developments has said the well was testing a number of conventional oil and gas targets.
"The licence holder and operator, Horse Hill Developments Limited, confirms that this is a conventional drilling project and none of the other partners have any interest in exploring unconventional opportunities," it has said.
"There are no unconventional shale targets."