What happened to England's abandoned mansions?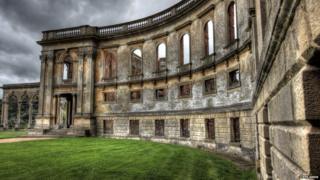 Evocative of an aristocratic and glorious history, there are many mansions around England that now stand empty or abandoned.
These impressive buildings may look lonely and forlorn but behind every mansion is a story.
Winstanley Hall in Winstanley, Wigan
Shiela Gummerson, 72, spent much of her childhood living in the grounds of Winstanley Hall, where her parents worked for its owners, the Bankes family.
"It was my own personal Downton Abbey," she said. "We were downstairs and the Bankes family were upstairs."
The hall dates back to the reign of Queen Elizabeth I and had been the home of the Bankes family since 1595.
Mrs Gummerson lived in a cottage on the grounds from 1942 until 1969 when her father, Frederick Parker, was their chauffeur and her mother, Sarah, was their cook.
"We got on well with the Bankes family. Every year they used to have a daffodil day once a year in the spring, where they'd invite local people to come and buy daffodils that would grow outside the Hall. Mother used to cook yeast buns and sell them to the locals."
She lived there until she was 27 when she got married. Her mother, by now a widow, left the cottage two years later.
The last member of the Bankes family left the house in 1984 and the building has since fallen into disrepair. It was sold to developers in 2000 and Save Britain's Heritage is now working to rescue it from decay.
While Mrs Gummerson has nostalgic memories towards the Hall, she has not been back since 1978.
"I can't bring myself to do it," she said. "I can see on the internet what it looks like now and I get so upset."
Woodchester Mansion, near Nympsfield, Gloucestershire
While most mansions fell into disrepair after decades of use, Woodchester Mansion was never actually finished. Work began in the 1850s but construction was abandoned in 1873.
According to rumour, a French plasterer was bludgeoned to death in the kitchen and his spirit scared the tradesmen off the site. However, the more likely explanation for its abandonment is that the owner, William Leigh, ran out of money after taking out a £10,000 mortgage, according to the estate manager Hannah McCanlis.
Andrew Fryer lived and worked in the mansion as a caretaker from 1994 until 2011. For the first 10 years he lived in one room on the ground floor with a Saniflo toilet.
"There were always weird things happening - noises coming from areas that no-one was allowed in," he said.
Despite now standing empty, Woodchester Mansion does have some unusual residents. It houses five different breeds of bat. Two of the bat colonies, the lesser horseshoe and greater horseshoe, live in the attics of the mansion.
The entire mansion is left in different states of incompletion, but the carved stonework is some of the best in the country, said Ms McCanlis.
Woodchester Mansion currently attracts about 6,000 visitors yearly and is open six days a week between April and October.
Witley Court in Worcestershire
Today, Witley Court is a large and impressive ruin, but 100 years ago it was in spectacular condition.
The rich industrialist Sir Herbert Smith bought the house in 1920 and lived there for 17 years until a devastating fire broke out in September 1937 while he was away.
The blaze began in the bakery in the basement of the south-east corner of the house. Fanned by strong winds, the fire spread rapidly to the main rooms, completely gutting the central and eastern sections.
According to English Heritage, insurance money would not pay for more than a quarter of the cost of rebuilding.
Therefore Sir Herbert decided to leave the property, and it has been empty since 1938.
English Heritage has restored the south garden. In addition to this, Wolfson Foundation funding has assisted with major restoration works in the East Parterre garden.
Poltimore House, near Exeter in Devon
Poltimore House dates back to the 16th Century and was home to the Bampfylde family for five centuries before becoming Poltimore College, a girls' school, in 1921.
However, a fire destroyed the former ballroom wing in 1987 and it has since fallen prey to vandalism, theft and the effects of bad weather.
Jocelyn Hemming, now 90 years old, was 21 when her parents bought the 112-acre estate in 1945.
The family lived in two rooms on the ground floor while the house was converted into a hospital.
She is now a member of the Poltimore House Trust, which has looked after the site since 2000 and hopes to restore it.
"I don't want to let the house go," she said. "It needs a lot of tender loving care and money.
"But my parents really loved that place, and I know they would like to think we were looking after it."
Bank Hall in Bretherton, Lancashire
Bank Hall, which dates back to the 17th Century, was used as a military headquarters during World War Two.
The Royal Engineers used it as a base for co-ordinating the transatlantic crossing of convoys of merchant shipping and also billeted officers there between journeys.
The Grade II-listed country house was built in 1608 but since the early 1960s it has been empty and "at the mercy of vandals", according to the Bank Hall Action Group, which is hoping to save it.
Janet Edwards, the group's chairwoman, said she had been fascinated by the building since she was 10 years old and the group had run a 16-year campaign to save it.
"It is a project that no-one in their right minds would take on, but once under its spell, it is hard to walk away," she said.
In February it was announced that Bank Hall would receive £1.69m for a restoration project from the Heritage Lottery Fund.
Planning consent is currently in place to turn the hall into a series of apartments while the Prospect Tower will be open for public exhibitions and tours.