Midlands set to become an even bigger 'Powerhouse'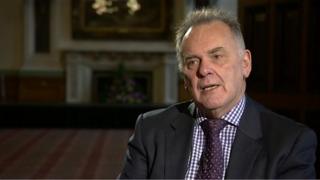 "Come and join us!"
There was more than an echo of the old Corries song when I talked to the leader of Britain's biggest local authority for Midlands Today.
In his first extended interview since the news broke of a ground-breaking agreement between long-time rival local authorities in Birmingham and the Black Country to set up a combined authority, Birmingham's council leader Sir Albert Bore had an overture of his own.
Not only did he want Coventry and Solihull to join in too, he also hoped districts in surrounding counties like Warwickshire, Worcestershire, Shropshire and Staffordshire would collaborate as well.
While acknowledging that northern England in general, and Manchester in particular, had been setting the pace in the English devolution debate so far, he was bullish about the prospects for his part of the country.
'No state for extra powers'
"I think we have the capacity not only to catch-up with Manchester because a "Midlands Powerhouse" can be bigger than the "Northern Powerhouse," he said.
I pressed him on the immense challenges facing his city: the notorious failings in children's services, the aftermath of the "Trojan Horse" letter, the budgetary crisis requiring about £360m savings and a review of the city's governance which some commentators have suggested could lead to the authority being cut in two.
I suggested the city was in no state to bid for extra powers.
He dismissed the idea of the city being broken-up and reminded me Communities Secretary Eric Pickles did not expect that to happen either. He was emphatic the city is now making strong progress in dealing with its afflictions.
He accepted the charge levelled by Lord Warner, the commissioner appointed by the government to sort out the children's services department: successive administrations had, indeed, "parked" the problems there, as Lord Warner put it.
'Catastrophic, fatal, failures'
The department has been under special measures for six years and has been implicated in a series of catastrophic, fatal, failures to safeguard the city's children.
Reading between the lines of Sir Albert's comments about "Trojan Horse" allegations, he came very close to suggesting that the letter that started it all had been a good thing.
"It led us to understand what had been going on in some of our schools" he said.
As for his council's budgetary woes he told me the city would not, as some MPs have suggested, go bankrupt. The council would agree a budget for next year albeit "including substantial cuts".
So Sir Albert's message to the wider world is that for all its manifest difficulties, his city is worth doing business with.
This is how he ended our interview: "We are getting to grips with children's services and education whilst exploring the benefits of being as large as we are to deliver growth in the economy."
Can he convince more areas to join him in his joint endeavour with his new-found friends in the Black Country? Will he convince the government that Birmingham's house is sufficiently in order for it to be given more of a role in the rebalancing of the economy?
Judge for yourself. The interview is on the Midlands Today Facebook page.