John Ruskin letters about Effy Gray sell for £90,000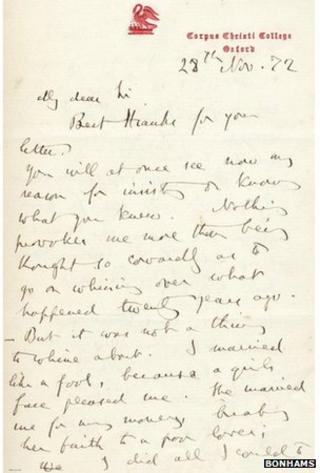 Previously unseen letters offering insights into the failed marriage of 19th Century critic John Ruskin have sold at auction for nearly £90,000.
Effie Gray, Ruskin's wife, left the art critic for his protege, Pre-Raphaelite painter John Everett Millais.
The doomed marriage is the subject of the recently released film Effie Gray.
The 75 letters written by Ruskin to a priest offer some frank observations, including that he "married like a fool, because a girl's face pleased me".
He went on to say: "She married me for my money, breaking her faith to a poor lover."
'Non-activity in the bedroom'
Ruskin wrote this in 1872 - almost 20 years after the annulment of the marriage - at which time he lived in Coniston, Cumbria.
The letters went to a private collector for £88,900 at Bonhams auction house in London.
Luke Batterham, from Bonhams, described the correspondence as a "very rare" insight into the couple's marriage.
He said: "He met Effie Gray when she was 12, married her when she was 17 and the marriage only lasts five years.
"She pushed for an annulment due to non-activity in the bedroom, is the contended idea from her side."
He said the letters had been kept by Ruskin's family and gone unseen until now.