Wargrave memorial for WW2 US bomber crash victims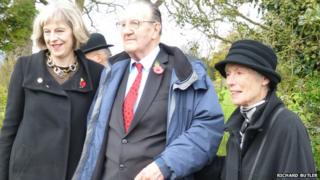 A memorial has been unveiled to the US crew of a World War Two plane which crashed by the River Thames in 1943.
Theresa May MP unveiled the memorial at Hennerton Golf Club in Wargrave, Berkshire with two eyewitnesses, who were 14 at the time of the crash.
The club overlooks the site in Wargrave and Shiplake, Oxfordshire, where the US B-17 bomber, nicknamed Sunrise Serenader, crashed.
Nine servicemen died and one survived when the plane exploded in the air.
'Rolling ball of fire'
The explosion and crash on 13 November 1943 was witnessed by Jim Waldron from Wargrave and Mary Burge from Shiplake.
Mr Waldron, now 84, said: "It was on a Saturday, I was in the back bedroom and we heard this engine noise but didn't think anything of it.
"Then suddenly there were these loud crashes and bangs - two of the bombs had crashed into River Thames.
"I saw the plane heading towards Henley and then transform into a rolling ball of fire.
"Then the burning aircraft broke in half."
As a boy he saw the wreckage strewn across the area, which included live ammunition.
Brig Gen Dieter Bareihs, US Defense Attaché, and MSgt Donald Grindstaff of the US Air Force also attended.
The plaque, designed by Mr Waldron, shows the flight path of the crashing plane over Shiplake and Wargrave, where the bombs were jettisoned, where bits of the plane fell, where the survivor landed and where the nine died.
Just before the service began a T6 Texan built in 1944 flew across the site performing several victory rolls.
A part of the four engine Boeing plane was pulled out of the river in 2003.
This and other artefacts, including some of the survivor's parachute, will be on display at the golf club.