Man overboard scare sparks sea search in English Channel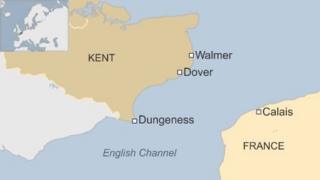 A "massive search" was launched to find a passenger who was reported missing from a ferry in the English Channel.
A witness said they saw someone go overboard from the Pride of Kent ferry about six miles off the coast of Dover at about 01:30 GMT.
HM Coastguard initially said it was searching for a missing woman but later said all crew and passengers had been "accounted for safe and well".
The search for the missing passenger was stood down after eight hours.
A spokeswoman for HM Coastguard said: "The area has been extensively searched overnight and into this morning with nothing found.
"Unless any new information comes to light, the search has been stood down."
'Saw someone overboard'
A helicopter from Lee-on-Solent was scrambled, four lifeboats from Dungeness, Dover, Walmer and Calais, and a tug boat from the Port of Dover were launched after the passenger was reported missing in the early hours.
HM Coastguard described the operation as a "massive search".
After the ferry arrived at Calais at about 07:35 GMT, the spokeswoman for HM Coastguard said: "All crew and passengers, including the woman believed to be missing, have been accounted for safe and well.
"However, a witness on board the ferry insists they saw someone go overboard."