Heathrow noise 'worse than ever' after trials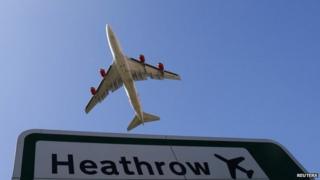 Residents affected by trial take-off routes from Heathrow claim the noise is worse than ever, despite the trials ending on Wednesday.
The routes, being tested as part of the government's Future Airspace Strategy, prompted complaints from people living on the Berkshire-Surrey border.
Residents in and around Lightwater say, since Wednesday, noise from incoming planes has increased.
Heathrow said there had been no change to arrival flight patterns.
The latest phase of airspace trials, involving outbound planes over Ascot and Lightwater, had been due to continue until 26 January 2015 but were halted "in light of residents' feedback".
People living in Ascot, Berkshire, which was not previously under a departure route, said they had noticed some reduction in noise since Wednesday but in other areas residents said inbound flights were coming in lower and earlier, something Heathrow denies.
'Woken up'
Residents in Frimley, Bagshot, Windlesham, Camberley, Sandhurst, Binfield and Sunningdale have also lodged complaints with Heathrow.
An airport spokeswoman said: "Heathrow ended its future airspace trials on 12 November and the airport has now resumed its pre-trial patterns.
"Prior to the future airspace trials, the community of Lightwater was affected by flights arriving into the airport during easterly operations and, on westerly operations, will be overflown by departing flights.
"The trials only affected departing flights so arrival operations remained the same then as they are now."
But Rosalie James, who campaigns on behalf of residents in Bagshot, Lightwater and Windlesham, said: "We never had flights so loud and so early that residents were woken from sleep from before five in the morning, for starters.
"Neither did we experience flights at two minute intervals, which also continues."
More trials are due to take place in 2015. A public consultation on the findings will be held in 2016 before any permanent changes can be agreed by government.