Peak District southwest area in line for £2.5m Heritage Lottery grant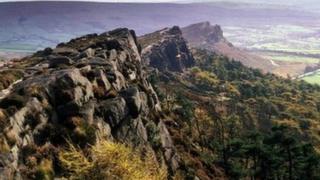 A total of £2.5m has been earmarked to help preserve the wildlife and heritage of part of the Peak District.
The Heritage Lottery Fund (HLF) has awarded the South West Peak Landscape Partnership (SWPLP) initial funding of £154,300.
The first stage of funding will be used to develop projects ideas, which include encouraging countryside access and providing rural apprenticeships.
The SWPLP will then submit a detailed case for the remainder of the money.
The south-west corner of the Peaks is an internationally important bird breeding colony, the group said.
The partnership, made up of organisations including the Peak District National Park Authority, English Heritage and the Royal Society for the Protection of Birds, said the initial grant would help it progress its plans to save the landscape, wildlife and heritage of the area which includes parts of Derbyshire, Staffordshire and Cheshire
Penny Anderson, from the partnership, said: "This is fantastic news. The project will be good for the local community, good for visitors, good for wildlife and all the benefits an enhanced environment can provide."
The group said it planned to help farmers maintain viable farm businesses while safeguarding habitats. It also plans to improve water quality in rivers and streams and offer apprenticeships and field studies.
The cash has come from the HLF's Landscape Partnerships fund. The group is aiming to submit a further application before May next year.
The south west Peaks features the iconic Roaches gritstone ridge and is a popular breeding spot for short-eared owl, merlin, golden plover and curlew.