Wildflower vote: Liverpool and Manchester win £120,000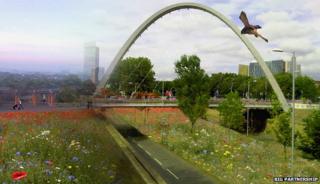 A project to transform parts of Liverpool and Manchester with wildflowers has won £120,000 in lottery funding following a national vote.
Seeds will be sown in Everton Park, Liverpool and Hulme and Moss Side after their joint bid was revealed as the flagship scheme for England.
The Tale of Two Cities scheme beat Bristol, London, Plymouth and Sheffield in a ballot by the Grow Wild group.
Organisers said they were "hugely proud and excited" about the win.
Grow Wild was launched by Royal Botanic Gardens, Kew and is aimed at boosting the growth of UK native wildflowers.
'Tender loving care'
Peter Ainsworth, chair of the Big Lottery Fund, said the collaboration between historic rivals Liverpool and Manchester was a "perfect example" of "bringing people together to improve their communities".
"The Tale of Two Cities [...] promises to create a fantastic project that will bring a splash of colour to areas in need of a little TLC."
In Liverpool, wildflowers will be sown in derelict areas at Everton Park and a meadow expansion is planned.
While in Manchester, the busy Princess Parkway route and nearby schools will be the sites of new wildflower planting.
Richard Scott, from Tale of Two Cities, said the campaign for support had been a lot of fun.
"We carolled streets, railway stations, markets, museums and football grounds and found support from great champions," he said.
Tale of Two Cities will also receive £15,000 in 2016, mainly for local activities for young people.
The runners-up will each receive £5,000 to develop local projects.
Grow Wild has already opened a site at Barrhead in central Scotland, and projects will be launched in Wales and Northern Ireland in 2017.