Alsager man Paul Fox given life for killing mother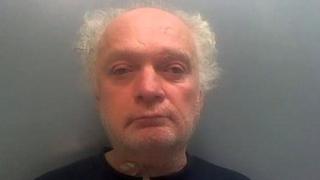 A man has been jailed for killing his mother in a "brutal" attack at their home in Alsager, Cheshire.
Yvonne Fox, 83, was found dead at the house in Barley Croft in June.
Post-mortem tests showed she suffered stab wounds and blunt-force injuries to her head, believed by police to have been caused by a sledge hammer
Her 54-year-old son Paul Fox pleaded guilty to murder at Chester Crown Court on Monday and jailed for a minimum of 16 years and nine months.
Det Insp Simon Blackwell, who led the investigation for Cheshire Police said the injuries showed the 83-year-old had "tried to fight off her son as he launched his brutal attack".
'Shame and self-loathing'
He said Mr Fox had been addicted to alcohol for many years and the "shame" of a drink drive prosecution had prompted him to "take his own life and the life of his mother".
"He consumed alcohol before he killed her and left the property and bought further alcohol after he attacked her - showing the real depths of his addiction," Det Insp Blackwell said.
The Crown Prosecution Service said Fox had tried to cut his own wrists after killing his mother and officers had discovered a note in the house saying "better off without me".
"He seems to have become gripped by shame and self-loathing but we may never know why a formerly good son took his mother's life in this brutal way," chief prosecutor Richard Riley said.