HIV report: More young people seek treatment in north west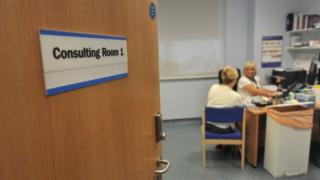 There has been 14% rise in the number of young people in the north west accessing HIV care for the first time.
This is the equivalent of two young people seeking treatment each week, a report by the Centre for Public Health at Liverpool John Moores University shows.
The centre said 295 young people received HIV care in 2013, which represents a 19% rise in ten years.
National HIV Testing Week will take place throughout England from Saturday.
Public Health England estimates about a quarter of those living with HIV are unaware of their infection and risk passing on the virus to others through unprotected sex.
Lead author of the report, Jane Harris, said: "A whole generation are now entering young adulthood who will not remember the start of the AIDS epidemic in the 1980s or the national campaigns of that time.
"It is vital that all young people have access to Sex and Relationship Education, HIV testing and sexual health services to ensure that they are aware of and properly informed about HIV."
Routine testing
In total, 7,625 people received HIV care in the region - more than any time since regional monitoring began 18 years ago.
Manchester (5.8 per 1,000), Salford (4.8 per 1,000) and Blackpool (3.6 per 1,000) were shown to have the highest HIV prevalence rates in the region.
The British HIV Association recommends routine testing for all medical admissions and new GP registrants when local HIV prevalence is greater than two per 1,000.
But neither Salford nor Manchester offer routine HIV testing. And, although the Manchester Royal Infirmary trialled this practice in 2011, it has since stopped.
Regional HIV differences in 2013
Greater Manchester had the highest number of HIV cases (4,482) and the greatest number of new cases (468).
Greater Manchester had the highest number infected through injecting drug use, accounting for 68% infected by this route in the region.
Merseyside was the only area in which heterosexual transmission was higher than sex between men, accounting for 51.7% of all infections.
Lancashire offered 91% of new sexual health clinic patients an HIV test - a rate 5% higher than the national average.
Blackpool Teaching Hospitals NHS Foundation Trust began offering HIV screening to all adults who attended the Acute Medical Unit last year in order to improve early diagnosis.
Figures showed that over a third of patients in Blackpool are diagnosed late, which can reduce the effectiveness of treatment and life expectancy.
Adrienne Seed, 61, from Blackburn who is living with HIV and campaigns for greater awareness of the virus, told Radio Lancashire: "The worst thing is to not get tested and to be diagnosed late because all that time your immune system is being suppressed.
"Whichever way you look at it, even if it's a scary thing to do, it's much better to get tested."