South-east gun amnesty nets more than 100 firearms so far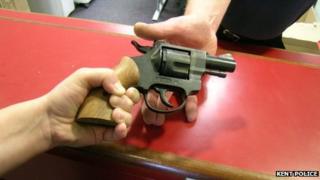 Shotguns, a deactivated machine gun, and boxes of ammunition are among items handed in to police stations across the south-east of England.
In the first week of a two-week firearms amnesty more than 100 weapons have been surrendered in Kent, Sussex and Surrey.
It is part of a national scheme to remove illegally owned and unwanted weapons and ends on Friday.
Police are checking that weapons have not been used in a crime.
Among the weapons handed into police in Sussex have been 17 air weapons, 15 shotguns, 13 revolvers, 12 pistols and five rifles.
Officers have also been given more than 700 cartridges and other bullets as part of the surrender.
In Surrey, six air weapons, six shotguns, five revolvers, four pistols and a rifle were also handed in as well as more than 500 cartridges and bullets.
The haul in Kent includes seven shotguns, a deactivated machine gun, four air rifles and a number of revolvers.