Trip Advisor bad review 'fine' to be refunded by Blackpool hotel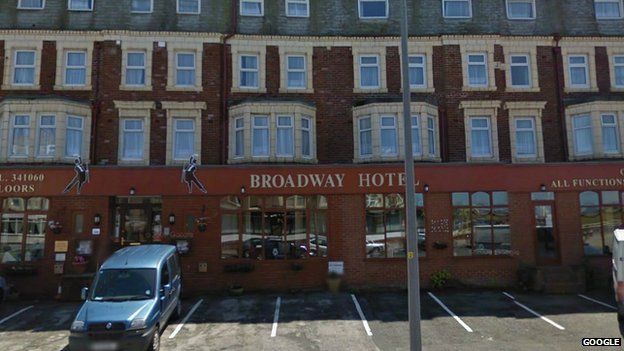 A hotel that "fined" a couple £100 who described it as a "rotten, stinking hovel" will refund the money.
Tony and Jan Jenkinson posted the comments on the Trip Advisor website after spending a night at the Broadway Hotel, for which they paid £36.
The couple, from Whitehaven, had the £100 charge levied to their credit card two days later.
The Blackpool hotel has now said it will refund the money and vowed to improve the facilities.
It introduced the policy of charging people who wrote bad reviews to prevent "customers from defaming" the business, a spokesman said.
In a statement, the hotel said: "We exercised this policy with Mr and Mrs Jenkinson as we felt extremely upset by their actions and insulting comments towards our staff.
"We agree there is room for improvement at our establishment and we desperately want to turn things around."
The hotel has now cancelled its policy after Blackpool Trading Standards warned it could be illegal.
Broadway bosses accused some "disgruntled customers" of abusing the review capability of TripAdvisor.
"We have found that customers will threaten us with bad reviews simply to gain a discount," the hotel said.
"The Broadway is a three star family run budget hotel and we charge as little as £15 per room per night and make a plea to customers to be more realistic in their reviews.
"We appreciate all feedback and want our customers to review us based on their experiences with us as budget hotel."
Officials believe the hotel may have breached unfair trading practice regulations.
Mrs Jenkinson said: "We knew it was cheap, but you expect it to be clean and you expect it to be habitable - and it wasn't."
The hotel policy, contained in a booking document, read: "Despite the fact that repeat customers and couples love our hotel, your friends and family may not.
"For every bad review left on any website, the group organiser will be charged a maximum £100 per review."
However Simon Calder, travel Editor for The Independent, said the charge was "completely out of order" and undermined people's "right to give their fair comment".
However, it did "highlight the exasperation" many hoteliers have with online review sites, with some customers threatening bad reviews in order to get discounts, he said.
Retired van driver Mr Jenkinson, 63, who paid £36 for a double room, said the details of the charge were in the booking documents, but his wife did not have her glasses on and signed without reading the small print.